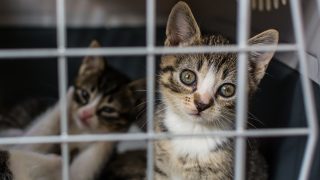 Recognizing Animal Sentience (New York City)
City Council Resolution 260

Companion Animals
Councilmember Carlina Rivera has introduced legislation, Resolution 260, into the New York City Council to recognize the sentience of animals! If approved by a majority of councilmembers, New York City will officially recognize "that animals are sentient beings entitled to respect and consideration, protection from abuse, neglect and cruelty, and the maximization of their welfare."
Specifically, the resolution acknowledges that animals…
are sentient beings capable of experiencing pain, stress, and fear, as well as pleasure, equanimity, and social bonds
as sentient beings, are able to subjectively feel and perceive the world around them
have intrinsic value and deserve to be treated with compassion and have a quality of life that reflects their intrinsic value
Although a city resolution is nonbinding — in contrast to a law — this acknowledgment from city leaders in the largest U.S. municipality is a significant example of the shift in the public's perception of animals and how they should be treated.
If the resolution is passed, New York City will join a growing list of jurisdictions around the world that recognize animal sentience in their laws. The European Union first recognized animals as "sentient beings" in 2007 with an amendment to the Lisbon Treaty, the union's governing document. In 2015, Colombia, France, New Zealand, and the Canadian province of Quebec amended their laws to recognize animals as sentient beings. Slovakia updated the definition of "animals" in its civil code in 2018 to reflect that they are living beings rather than things. And Austria, Germany, Switzerland, Belgium, and Portugal, as well as several jurisdictions outside of Europe, have also enshrined animal sentience as a legal principle.
In Oregon, the state Legislature has recognized that "animals are sentient beings capable of experiencing pain, stress, and fear" and that "animals should be cared for in ways that minimize pain, stress, fear, and suffering."
The Animal Legal Defense Fund congratulates and thanks Councilmember Rivera for her leadership and recognizes the hard work of local advocates at New York Voters for Animal Rights.
Want to take action to pass animal protection legislation in your community? We can help!
Join the Animal Legal Defense Fund's email list to stay up to date on lawsuits, legislation, and regulations affecting animals.
Sign Up Now