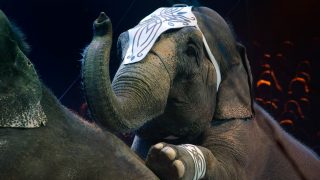 Protecting Animals Used in Circuses (Connecticut)
An Act Concerning the Use of Certain Animals in Traveling Animal Acts (HB 5123)
Prohibits the use of certain animals in circuses and traveling shows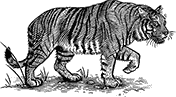 Captive Animals
Wild animals don't belong in circuses. They spend most of their days in cramped, barren cages, deprived of the ability to engage in their natural behaviors. Forced to perform frightening and sometimes painful tricks, they are typically denied anything that might satisfy their complex physical, behavioral, and emotional needs.
The Connecticut General Assembly is considering An Act Concerning the Use of Certain Animals in Traveling Animal Acts (HB 5123) would prohibit use of certain animals in circuses and traveling shows. Known as "Beulah's Law," this legislation is named for Beulah, an Asian elephant who was exploited for decades by the Commerford Zoo, a Connecticut-based traveling show and petting zoo. Born in the wild in Myanmar in 1967, Beulah was transported to the U.S. and sold to the Commerford Zoo before she was six years old. In 2019, at the age of 54, Beulah passed away after being seen collapsing at the Big E in West Springfield, Massachusetts. Beulah's former companion, Minnie, an Asian elephant, continues to be exploited by the Commerford Zoo. Commerford Zoo has been cited for more than 50 times for violations ranging from inadequate veterinary care to poor sanitation.
Use in circuses and traveling shows typically means a lifetime of misery for wild animals. These animals do not perform tricks because they want to — they perform these confusing and physically grueling acts because they are afraid not to. Trainers often use physical abuse, including beatings, to coerce animals into performing difficult tricks on command. These animals endure extreme confinement — unable to engage in many of their natural behaviors. They are often transported in poorly ventilated, cramped trailers for up to 50 weeks a year, sometimes in extreme weather. Wild animals like big cats and elephants are also dangerous and unpredictable, posing a serious safety risk to the public. Many wild animal exhibitors have histories of federal Animal Welfare Act violations and dangerous public safety incidents.
As the public grows increasingly aware of the cruelty inherent in forcing wild animals to perform in circuses and traveling shows, more states and cities are moving to restrict or prohibit their use. Already, eight states and nearly 150 other localities in 37 states have passed various restrictions governing the use of wild animals in circuses and traveling shows — including Bridgeport and Stamford, Connecticut.
We are grateful to the bill's co-sponsors for supporting this important bipartisan legislation to prohibit the use of wild animals in circuses and traveling shows.
Learn more about animals used in entertainment.
Join the Animal Legal Defense Fund's email list to stay up to date on lawsuits, legislation, and regulations affecting animals.
Sign Up Now