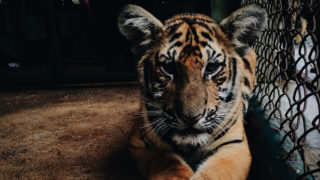 Big Cat Public Safety Act (Federal)
Federal Legislation
There are few federal laws protecting the millions of wild animals living in captivity in the United States, some of whom are kept in private homes. While some states have restricted or banned the private possession of certain wild animals, other states have virtually no regulations. The Big Cat Public Safety Act addresses this gap and prohibits the private ownership of big cats. Big cats belong in the wild or, in situations where captive animals can no longer safely be returned to the wild, in accredited sanctuaries equipped to meet their complex physical and psychological needs.
Allowing untrained people to maintain big cats in their homes not only harms animals, it threatens public safety. Lions, tigers, and other big cats are powerful animals who can easily kill or severely injure humans. Private ownership of big cats endangers those living in the neighborhood, as well as first responders who are ill-equipped to handle situations where an animal has escaped. Furthermore, it fuels the wild "pet" trade, creating a financial incentive for people to capture big cats in the wild and breed them for the purpose of selling the cubs.
The Big Cat Public Safety Act also makes it illegal for exhibitors (such as circuses and zoos) to allow direct contact with cubs. Some facilities actually encourage visitors to interact with cubs, such as bottle feeding tiger cubs, for an extra fee. This endangers both the cubs and visitors, many of whom are children. Even at a young age, cubs' teeth and claws pose a serious safety risk. Exhibitors may even drug the animals to keep them docile – sometimes on a daily basis and rarely under the supervision of a veterinarian, which can lead to long-term health problems.
Because cubs can only be "handled" for a few months, this practice results in cubs being prematurely weaned and forcibly separated from their mothers, often resulting in long-term psychological repercussions. They are then discarded around 12 weeks old to be sold into the "pet" trade, to roadside zoos, or even illegally "harvested" for their body parts.
Senator Richard Blumenthal (D-CT) introduced the Senate version of the bill in the fall of 2019. It is cosponsored by U.S. Senators Bernie Sanders (I-VT), Robert Menendez (D-NJ), Chris Van Hollen (D-MD), Dianne Feinstein (D-CA), Kirsten Gillibrand (D-NY), Sheldon Whitehouse (D-RI), Jack Reed (D-RI), Edward J. Markey (D-MA), Kamala Harris (D-CA), and Cory Booker (D-NJ).
Representatives Mike Quigley (D-Ill) and Brian Fitzpatrick (R-PA) introduced the House version of the Big Cat Public Safety Act in February 2019. It has 148 co-sponsors. Read the bill language here: H.R. 1380.
The Animal Legal Defense Fund is a strong supporter of the Big Cat Public Safety Act and urges states to enact laws prohibiting the private ownership of wild animals. Consider sending your federal legislators a polite message urging them to support this legislation.  
Ask your members of Congress to prohibit the private ownership of big cats.
TAKE ACTION