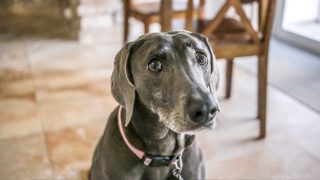 Animal Care and Control Omnibus Amendment Act of 2021 (Washington, D.C.)
Bill 24-0560
Bill would implement a retail pet sale ban in Washington, D.C.; prohibit cat declawing in the District; criminalize the sexual abuse of animals; ban the possession of dogfighting implements; and make additional improvements for animals.

Companion Animals
According to Councilmember Mary Cheh (D-Ward 3), the councilmember who introduced the Animal Care and Control Omnibus Amendment Act of 2021 (Bill 24-0560): "For the past decade, the District of Columbia has set the national standard for the humane care and treatment of domestic and wild animals. But, as we have seen in recent years … we cannot rest on our past success and must remain ready to respond to immediate and pressing animal welfare concerns."
This legislation would:
implement a retail pet sale ban in D.C. to address the issue of cruel puppy and kitten mills. Pet stores would instead be encouraged to partner with animal shelters or rescue organizations to offer rescued animals for adoption.
prohibit cat declawing, except in rare cases with a legitimate veterinary purpose.
criminalize the sexual abuse of animals.
ban the possession of dogfighting implements and curb the sale or manufacturing of dogfighting implements for profit.
authorize animal control officers to act in life-threatening emergencies involving animals, including the use of emergency lights and sirens.
enable animal shelters to recoup the cost of caring for animals lawfully seized in cruelty investigations.
require courts to consider the best interests of companion animals in divorce proceedings, empowering judges to factor in an animal's individual needs when deciding which guardian, or both, should have custody.
The Animal Legal Defense Fund strongly supports Bill 24-0560. If you live in Washington D.C., please take action and ask the D.C. Council to advance this important legislation.
To find more information about anti-cruelty laws and opportunities to take action for animals in the District, visit aldf.org/dc.
Join the Animal Legal Defense Fund's email list to stay up to date on lawsuits, legislation, and regulations affecting animals.
Sign Up Now