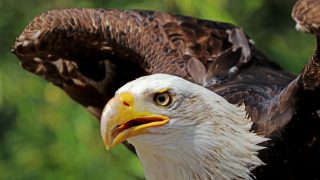 An Act Related to Pesticides (California)
A.B. 1322

Wildlife
Updated
September 5, 2023
The Animal Legal Defense Fund supports this bill.
Sponsor: Assemblymember Laura Friedman (D-44)
Introduced: February 16, 2023
In 2020, Gov. Gavin Newsom signed into law the California Ecosystems Protection Act to address the dangers posed by rodenticides (rat poisons). The law placed a moratorium on the use of second-generation anticoagulant rodenticides (SGARs), the most dangerous type of rat poison, except in public health emergencies and a few other situations.
Now, California lawmakers are considering a new bill, An Act Related to Pesticides (A.B. 1322), to address the danger from another rodenticide type: first-generation anticoagulant rodenticides (FGARs) that include diphacinone.
Exposure to diphacinone can lead to death, severe skin diseases, and decreased immune-system responses in animals and humans alike.
An Act Related to Pesticides would:
add diphacinone to California's existing rodenticide moratorium; and
require the state Department of Pesticide Regulation (DPR) to create permanent restrictions on second-generation anticoagulant rodenticides and diphacinone to reduce unintended poisonings.
Why is this legislation important? Wildlife, companion animals, and children are all vulnerable to accidental rodenticide poisoning. The California DPR has documented 38 species that have been affected by rodenticide poisonings. Meanwhile, thousands of accidental human poisonings — primarily in children under age 6 — were attributed to rat poison in 2021, according to the American Association of Poison Control Centers. And more than 100 companion animals die each year due to rodenticides, research from the U.S. Environmental Protection Agency indicates. California must act to further protect animals and children from being unintentionally affected by diphacinone.
Coalition support: Center for Biological Diversity, Raptors Are The Solution
To find more information about additional opportunities to take action for animals in the state, visit aldf.org/california.
Join the Animal Legal Defense Fund's email list to stay up to date on lawsuits, legislation, and regulations affecting animals.
Sign Up Now