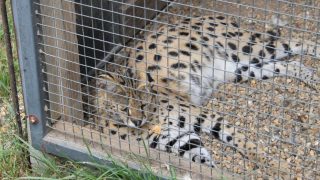 USDA Revokes Iowa Roadside Zoo's Exhibitor License and Issues $10,000 Penalty
Animal Legal Defense Fund Lawsuits Expose Pattern of Cruel Conditions at Cricket Hollow Animal Park
Contact: media@aldf.org
Des Moines, Iowa – In a rare move, the U.S. Department of Agriculture (USDA) revoked Cricket Hollow Animal Park's (formerly Cricket Hollow Zoo) exhibitor license and issued a $10,000 fine against roadside zoo owners Pamela and Thomas Sellner.
This decision comes as a result of a campaign led by the Animal Legal Defense Fund to expose the suffering and neglect of animals at Cricket Hollow. The multiple lawsuits that the national organization filed—and won—against both Cricket Hollow Animal Park and the USDA exposed chronic Animal Welfare Act (AWA) violations and the USDA's failure to properly enforce the law until now.
In 2014, the Animal Legal Defense Fund sued the USDA for reissuing Cricket Hollow Animal Park's license despite frequent violations recorded by the USDA's own inspectors, including inadequate staffing, filthy enclosures, and deficient veterinary care. Although the USDA may revoke a license to operate an animal enterprise if the licensee violates the AWA, the agency rarely exercises this power. Instead of holding violators accountable, the USDA rubberstamps AWA license renewals year after year.
In response to the 2014 lawsuit, the U.S. Court of Appeals for the District of Columbia recently ruled that the agency cannot "arbitrarily and capriciously" renew exhibitor licenses for facilities known to violate the AWA. The USDA is reconsidering its rubberstamping license scheme and accepted public comment on the policy earlier this year.
In the decision to revoke the license, Administrative Law Judge Channing D. Strother noted it was inconsistent with the AWA to allow licensees with "chronic violations to continue to operate without sanctions." The owners have 30 days to appeal the decision.
Additionally, the Animal Legal Defense Fund won two landmark legal victories under the Endangered Species Act (ESA) against Cricket Hollow Animal Park, revealing the extensive mental and physical suffering of endangered animals living at the zoo. The lawsuits resulted in the transfer of four tigers and three lemurs, and the relocation of two African lions to a reputable sanctuary.
"Cricket Hollow Animal Park has a lengthy history of disregarding the AWA and the ESA," says Animal Legal Defense Fund executive director Stephen Wells. "The decision to revoke its license underscores the severity of the zoo's violations. Any animal exhibitor that harms animals should have its license revoked immediately."
The Animal Legal Defense Fund files lawsuits against roadside zoos across the country that fail to meet the standards of care mandated by the AWA and the ESA. Cricket Hollow Animal Park is only one example of the cruelty endemic to the roadside zoo industry.
Related
Reward for information leading to the arrest and conviction of the person or people responsible for illegally shooting and killing a red wolf in Tyrrell County, North Carolina.

Graphic images of wound are posted on Tik-Tok by an employee of Gator Park — a facility owned and operated by Jason Clay.

The lawsuit alleges federally endangered and threatened animals such as the tigers, lions, and ring-tailed lemurs are receiving inadequate care at Tiger Creek