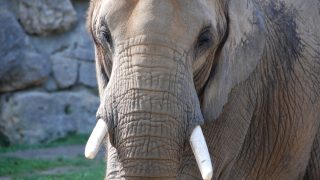 U.S. Zoos Request Import of African Elephants Under False Pretenses
Wild-captured elephants would be imported for profit, not conservation
Contact: media@aldf.org
Los Angeles, CA — In a decade flush with elephant 'retirements' from circuses and zoos nationwide, three American zoos—the Dallas Zoo, the Sedgwick County Zoo in Wichita, Kansas, and the Henry Doorly Zoo in Omaha, Nebraska—intend to import 18 wild-captured elephants from Swaziland, Africa.
Yesterday, the Animal Legal Defense Fund, PETA, Performing Animal Welfare Society, and captive wildlife attorney Deborah Robinson submitted formal comments to the U.S. Fish and Wildlife Service urging the agency to decline issuance of the permit necessary for the import.
The intended use of these 18 elephants is to further the captive breeding programs that have proven unsustainable in U.S. zoos. This intended plan would violate the Convention on International Trade in Endangered Species of Wild Fauna and Flora (CITES), the treaty that regulates international trade in wildlife, which expressly defines captive breeding programs as "commercial activity" and prohibits the import of African elephants for such purposes.
"It is widely known and accepted that elephants do not thrive in zoos," says Stephen Wells, executive director of Animal Legal Defense Fund. "Inhumane and unnatural conditions of captivity contribute to the aberrant behaviors, such as bobbing and weaving, and most elephants confined in zoos die prematurely due to health problems that are unique to captive populations. Captive elephant breeding programs are undertaken to boost zoo attendance, rather than repopulate range states or serve any legitimate conservation purpose."
Further, elephants are family oriented—female elephants stay with their mothers for their entire lives, and male offspring stay with their mothers into their teens. The import would break up many family units.
If approved, after the import, fewer than 25 elephants would remain in Swaziland.
Related
In a letter to the USDA, the Animal Legal Defense Fund and others explain the zoo has repeatedly violated standards of the Animal Welfare Act

Animal Legal Defense Fund letter asks Puerto Rico governor to investigate illegal treatment of endangered species and other animals at Dr. Juan A. Rivero National Zoological Park

The Animal Legal Defense Fund is deeply saddened by the death of elephants Beulah and Karen and is committed to supporting legislation pending in Massachusetts to prohibit the use of elephants and certain other wild animals used in circuses.