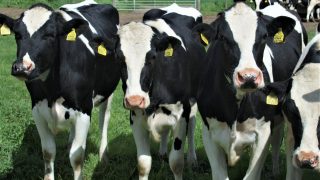 Top Constitutional Law Scholar Supports the Animal Legal Defense Fund's Idaho Ag-Gag Lawsuit
The Animal Legal Defense Fund's campaign to defeat Ag-Gag laws—which criminalize whistleblowers who expose rampant animal suffering throughout the animal agriculture industry—is supported by constitutional law scholars at the top of their field. Perhaps none is so highly regarded as Erwin Chemerinsky, founding Dean and Distinguished Professor of Law at the University of California, Irvine School of Law. National Jurist magazine recognized Dean Chemerinsky as the most influential person in legal education in both 2013 and 2016.
Dean Chemerinsky recently filed an unopposed motion to participate in the oral argument for Animal Legal Defense Fund v. Wasden, the constitutional challenge to Idaho's Ag-Gag law, currently before the Court of Appeals for the Ninth Circuit. He will argue that the Animal Legal Defense Fund has correctly construed the U.S. Constitution in its challenge to Idaho's Ag-Gag law.
During his distinguished career, Dean Chemerinsky has written eight books, including Constitutional Law: Principles and Policies, a constitutional law treatise, and Constitutional Law, a casebook used nationwide by law students taking constitutional law courses. He has authored more than 200 law review articles and was the second most cited law professor from 2009 to 2013, being cited over 3,000 times by various academics and courts. On top of his experience in legal writing and academia, he has argued numerous important constitutional law cases before the Supreme Court of the United States.
By participating in the oral argument, Dean Chemerinsky brings an unmatched wealth of knowledge, experience and expertise in constitutional law to the Animal Legal Defense Fund's legal positions. It cannot be denied that this is an important and well-conceived case, given Chemerinsky's willingness to be formally involved. In his amicus brief submitted to the district court, he argued that Idaho's Ag-Gag law impermissibly discriminated based on free speech; thus, it violated the First and 14th Amendments. Judge Winmill, who permanently enjoined the Idaho Ag-Gag law, agreed and specifically mentioned Chemerinsky's brief in his opinion striking down the Idaho Ag-Gag law as unconstitutional. Animal Legal Def. Fund v. Otter, 118 F. Supp. 3d 1195, 1211 (D. Idaho Aug. 3, 2015). The Animal Legal Defense Fund is confident that Chemerinsky's perspective will also be useful to the federal court of appeals. "It is a huge boost to morale and to our general sense of the righteousness of our efforts to have Dean Chemerinsky's help," says Justin Marceau, the Animal Legal Defense Fund Professor of Law at the University of Denver. "Chemerinsky is an intellectual giant, almost without rival, and for those who take the Constitution seriously, his views on its meaning matter."
The oral argument has not yet been scheduled, but is being considered for the May 2017 Seattle oral argument schedule.
Related
Meat and dairy alternatives can use common naming conventions in the state without fear of prosecution

Public interest coalition cheers major victory in lawsuit to strike down law designed to quash undercover investigations

Today, a coalition of public interest groups, led by the Animal Legal Defense Fund, filed a lawsuit challenging the constitutionality of Iowa's new Ag-Gag law — a law that is substantively similar to an Iowa law struck down by the same federal court.