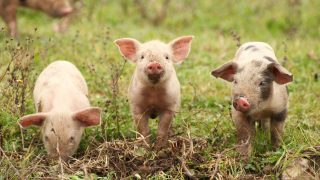 The UCLA Animal Law Society: Raising Awareness of Animals and the Law
The Animal Law Society is UCLA's SALDF chapter, comprised of several officers and a wider group of UCLA law students interested in animal legal issues. We work closely with the UCLA Animal Law Program, which is run by Professor Taimie Bryant (faculty advisor to the Animal Law Society) and Reference Librarian Vicki Steiner, and supported largely by grants from Bob Barker. Both Professor Bryant and Ms. Steiner are active in the field of animal law, and their research and work reflect a deep commitment to animals.
This February, UCLA had the honor of hosting the 9th Annual National Animal Law Competitions. Competitors from 23 schools competed in Legislative Drafting & Lobbying, Closing Argument, and Appellate Moot Court competitions, evaluated by guest judges drawn from the field of animal law. The competitions tested advocacy skills on a wide range of issues surrounding animal cruelty and related laws.
The Animal Law Society and the UCLA Animal Law Program assisted Lewis and Clark's Center for Animal Law Studies in putting on the competition. Our officers volunteered in a variety of roles, including timekeepers and legislative staff, and served as hosts and guides to the visiting competitors and volunteers. The event was a resounding success, and we were honored to have been a part of it.
The Animal Law Society strives to bring awareness of legal issues surrounding our interactions with animals to UCLA Law School and the broader community. Last semester, in collaboration with the school's Environmental Law Society, the Animal Law Society brought Special Agent Ed Newcomer from the U.S. Fish and Wildlife Service to discuss his experiences investigating federal animal crimes, primarily involving the sale and importation of threatened and endangered species and assorted animal products. Mr. Newcomer, a former attorney, has been a particular favorite of the school for his inspiring and entertaining lectures focusing on the tactics involved in successfully investigating and prosecuting these crimes.
In November, we hosted a screening of the movie Food, Inc., which documents the animal abuses and other troubling issues surrounding the modern American agriculture business. We served fresh-popped vegan popcorn. The movie presents excellent information in a well-produced and entertaining manner, and was an enjoyable way to end the week before worrying about finals.
We additionally assisted the Animal Law Program in an event featuring speakers Bruce Wagman and Sheldon Eisenberg discussing animal shelter litigation. Both Mr. Wagman and Mr. Eisenberg are practicing attorneys who have represented clients in matters involving companion animals and shelter practices. This event attracted attorneys, rescue workers, students, and interested members of the community. Attorneys could earn MCLE credit for attendance, a rare opportunity for a discussion of animal law issues.
This semester, we've helped out with the Animal Law Program's hosting of Nathan Winograd, another MCLE credit event attracting a wide audience to the law school. Mr. Winograd is a passionate and controversial figure in the animal shelter and rescue community. A former prosecutor and shelter director, he is currently the executive director of the No Kill Advocacy Center, which advocates the adoption of the "no-kill model" for animal shelters. Mr. Winograd outlined his vision for reducing shelter animal euthanasia, including increased spay/neuter efforts, coordination with rescue organizations, and increased adoption outreach.
One issue Mr. Winograd has taken on this year is the looming repeal of provisions of the Hayden Law, which offers protections to California shelter animals, and which was substantially drafted by Professor Bryant. In March, the Animal Law Society officers wrote a letter to Governor Jerry Brown, asking him to preserve this law.
Last spring, the Animal Law Society again partnered with the school's Environmental Law Society, this time this time to bring Dr. Biruté Mary Galdikas to the UCLA campus. Dr. Galdikas has worked to rehabilitate and preserve the habitat of wild orangutans. In a presentation entitled "Seeing Red," she spoke about the deforestation of orangutan habitat caused by palm oil plantations in Borneo.
This summer, Animal Law Society Officer Kelsey Rinehart worked with UCLA Law alum (and Animal Law Competition judge) Cheryl Leahy at Compassion Over Killing, a leading farmed animal advocacy group. Additionally, Co-Chair Jesse Lueders will be working at WildEarth Guardians, a Denver-based environmental organization that has been active in endangered species listing efforts and litigation surrounding species and land preservation.
We look forward to planning another year of events, and working with ALDF to raise awareness of animal protection in the law!
Related
These charges leave no doubt that the mistreatment of an aquatic animal can be taken seriously — while also raising important questions concerning these creatures' treatment under the law.

This year, for the first time in the event's long-running history, the Animal Law Conference dedicated a panel to showcasing law student work.

We are now accepting submissions for our fourth annual Student Animal Legal Defense Fund Chapter of the Year Award!