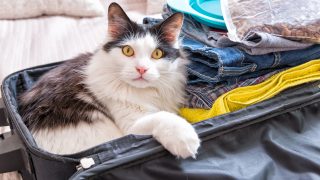 Student Chapter Travel Grants
Application
Animal Legal Defense Fund's student chapters can apply for funding to support animal law projects that advance our mission, as well as travel to animal law events. Events like the annual Animal Law Conference, co-presented by Animal Legal Defense Fund, the Center for Animal Law Studies at Lewis & Clark Law School, and the Lewis & Clark student chapter, are wonderful educational and networking opportunities for students interested in animal law.
To be eligible for a travel grant, your chapter must meet all the student  chapter requirements, including providing your updated chapter officer information.
We are currently offering travel grants to the 2020 Animal Law Symposium: Oklahoma City. 
Each chapter is eligible to apply for a maximum grant of $1,500 (or $1,000 if only one member is attending) which can be used to offset the expenses of registration, transportation, and lodging. Student chapter officers can apply for a travel grant for their chapter. There is only one grant available per chapter and funds awarded must be divided between attending members. Grants will be awarded on a first come, first served basis and they will go quickly!
If your chapter is awarded a travel grant, you will receive a reimbursement form, which the chapter president or treasurer must return to us with copies of relevant receipts in order to receive the funds. Please note that even if you are awarded a travel grant, you must still register for the event. Attendance at the event is mandatory to receive the grant.
---
Related
The U.S. District Court for the Central District of California dismissed the industry's constitutional challenge in its entirety, and forbade the plaintiffs from trying to renew those claims.

The Animal Legal Defense Fund filed a lawsuit against the U.S. Department of Agriculture (USDA) for issuing a final rule allowing pig slaughterhouses nationwide to police themselves and kill pigs at very high line speeds.

Ask your state legislators to provide an opportunity for dogs and cats used in research to find loving homes once their time in a research laboratory has come to an end by supporting An Act Protecting Research Animals.