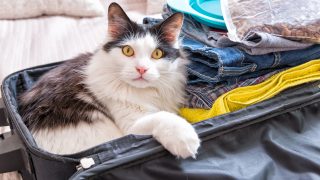 Student Chapter Travel Grants
Application
Animal Legal Defense Fund's student chapters can apply for funding to support animal law projects that advance our mission, as well as travel to animal law events. Events like the annual Animal Law Conference, co-presented by Animal Legal Defense Fund and the Center for Animal Law Studies at Lewis & Clark Law School, are wonderful educational and networking opportunities for students interested in animal law.
To be eligible for a travel grant, your chapter must meet all the student chapter requirements, including providing your updated chapter officer information.
After August 14, 2020, student chapters can apply for registration grants to the virtual 2020 Animal Law Conference and Student Convention.
Each chapter is eligible to apply for a maximum grant of $1,200, which can be used to offset the expenses of registration for 15 chapter members. Student chapter officers can apply for a grant for their chapter. There is only one grant available per chapter and funds awarded must be divided between attending members. Grants will be awarded on a first come, first served basis and they will go quickly!
If your chapter is awarded a grant, you will receive a reimbursement form, which the chapter president or treasurer must return to us with copies of relevant receipts in order to receive the funds. Please note that even if you are awarded a travel grant, you must still register for the event. Attendance at the event is mandatory to receive the grant.
---
Related
Animal protection advocate and actress Kim Basinger sent a letter to Craigslist CEO Jim Buckmaster with an urgent request the company end all animal posts on its platform.

The Animal Legal Defense Fund files amicus brief in divorce case concerning custody and visitation of companion animals

The court's decision ensures Special Memories Zoo is permanently closed following Animal Legal Defense Fund lawsuit