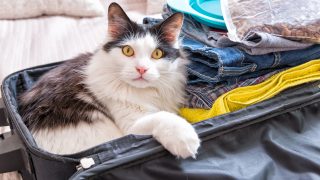 Student Chapter Travel Grants
Application
Animal Legal Defense Fund's student chapters can apply for funding to support animal law projects that advance our mission, as well as travel to animal law events. Events like the annual Animal Law Conference, co-presented by Animal Legal Defense Fund, the Center for Animal Law Studies at Lewis & Clark Law School, and the Lewis & Clark student chapter, are wonderful educational and networking opportunities for students interested in animal law.
To be eligible for a travel grant, your chapter must meet all the student chapter requirements, including providing your updated chapter officer information.
We are currently offering travel grants to the 2018 Animal Law Conference. Chapters can also apply for a grant to attend the Florida Animal Law Update CLE.
Each chapter is eligible to apply for a maximum grant of $1,500 (or $1,000 if only one member is attending) which can be used to offset the expenses of registration, transportation, and lodging. Student chapter officers can apply for a travel grant for their chapter. There is only one grant available per chapter and funds awarded must be divided between attending members. Grants will be awarded on a first come, first served basis and they will go quickly!
If your chapter is awarded a travel grant, you will receive a reimbursement form, which the chapter president or treasurer must return to us with copies of relevant receipts in order to receive the funds. Please note that even if you are awarded a travel grant, you must still register for the event. Attendance at the event is mandatory to receive the grant.
---
Related
This week the Farm Bill was approved by the U.S. House and Senate. The bill includes important provisions that will protect animals, and most importantly, does not contain the King amendment.

This week, a coalition of organizations, led by the Animal Legal Defense Fund, filed a lawsuit challenging a 2016 decision by the U.S. Department of Agriculture (USDA) Farm Service Agency (FSA) to exempt some factory farms from critical environmental laws.

On Monday, Dec. 17, the Ninth Circuit Court of Appeals in San Francisco will hear oral arguments from the Animal Legal Defense Fund in the lawsuit against the USDA for removing tens of thousands of animal welfare records from the agency's website.