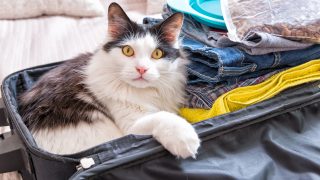 Student Chapter Travel Grants
Application
Animal Legal Defense Fund's student chapters can apply for funding to support animal law projects that advance our mission, as well as travel to animal law events. Events like the annual Animal Law Conference, co-presented by Animal Legal Defense Fund, the Center for Animal Law Studies at Lewis & Clark Law School, and the Lewis & Clark student chapter, are wonderful educational and networking opportunities for students interested in animal law.
To be eligible for a travel grant, your chapter must meet all the student  chapter requirements, including providing your updated chapter officer information.
After August 14, 2020, student chapters can apply for registration grants to the virtual 2020 Animal Law Conference and Student Convention.
Each chapter is eligible to apply for a maximum grant of $150 (or $75 if only one member is attending) which can be used to offset the expenses of registration. Student chapter officers can apply for a grant for their chapter. There is only one grant available per chapter and funds awarded must be divided between attending members. Grants will be awarded on a first come, first served basis and they will go quickly!
If your chapter is awarded a grant, you will receive a reimbursement form, which the chapter president or treasurer must return to us with copies of relevant receipts in order to receive the funds. Please note that even if you are awarded a travel grant, you must still register for the event. Attendance at the event is mandatory to receive the grant.
---
Related
As the Animal Legal Defense Fund combats dogfighting by working with state officials to create stronger laws and more effective penalties for those who engage in this crime, we're also hard at work to ensure the best possible outcomes for dogfighting victims.

The Animal Legal Defense Fund, the nation's preeminent legal advocacy organization for animals, and Humane Rescue Alliance (HRA) are offering a $10,000 reward for information leading to the arrest and conviction of the person or people responsible for the abandonment and stabbing of a senior-aged dog named Ladybell on July 12, 2020.

Earlier this summer, the driver of a pig transport truck struck and killed longtime animal advocate Regan Russell. The circumstances regarding her death are not fully known to the public, but top to bottom, the animal agriculture industry is rarely held accountable.