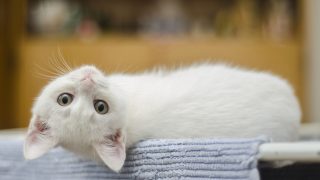 Collect Donations for Local Animal Sanctuaries or Shelters
Team up with a professor to encourage students to donate food, blankets, or toys in exchange for immunity from being cold-called on in class.
Organize an Animal Legal Defense Fund Benefit Day
Contact a local plant-based restaurant or animal-friendly business to see if they would donate a percentage of their total daily sales to the Animal Legal Defense Fund.
Fundraise for Animals
Raise money for your chapter, a local animal shelter, or sanctuary with a Professors with Pets calendar that your chapter sells to the law school community. Your chapter could also hold a Cutest Companion Animal Contest, where you set up a table with animal photos and students and professors vote for their favorite by putting a dollar in the jar for that photo. Host a plant-based bake sale and engage students in conversation about how easy it is to go cruelty-free. The possibilities are endless—get creative!
Related
Today the House of Representatives voted 272 to 114 to pass the Big Cat Public Safety Act. Endorsed by the Animal Legal Defense Fund, the bill prohibits the private ownership of big cats and makes it illegal for exhibitors to allow direct contact with cubs.

The Animal Legal Defense Fund filed a lawsuit against the United States Department of Agriculture (USDA) under the Freedom of Information Act (FOIA) over the agency's critical redactions in a contract between the USDA's Wildlife Services program and a Colorado slaughterhouse, outlining plans for slaughtering geese rounded up in parks across Denver.

The Animal Legal Defense Fund released the second in a series of white papers — COVID-19 and Factory Farming —providing policy recommendations to address industrial animal agriculture's role in our heightened risk for zoonotic diseases outbreaks, like COVID-19, and its potential to be the source of the next global pandemic.