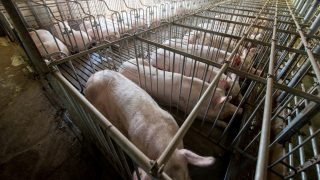 2014-2016: Ag-Gag Laws
Student Chapter Program Guide
Introduction
Each year, Animal Legal Defense Fund provides resources to help its student chapters focus on a specific priority issue. The Student Chapter Program Guide contains an overview of the issue, Animal Legal Defense Fund's involvement, and suggested activities, such as film screening suggestions, a reading list, and suggested speakers. This year's priority issue is Ag-Gag legislation.
Ag-Gag Overview
Animal abuse, food safety violations, and illegal and life-threatening working conditions are rampant on facilities that farm and slaughter animals. Undercover investigations have exposed egregious animal cruelty, such as workers kicking, beating, and dragging cows, pigs, and chickens, and slitting their throats while they are fully conscious. Investigations have also shed light on common agricultural practices that cause animals to suffer significantly, such as removing animals' testicles, tails, horns, beaks, or toes without anesthesia; confining animals in spaces so small they cannot turn around, extend their wings, or lie down comfortably; grinding male chicks alive; and taking calves away from their mothers mere moments after birth. The abuse farmed animals suffer is simply out of step with most Americans' values—and rather than helping industry hide these cruel practices, lawmakers should focus on ending them. Not a single federal law protects farmed animals from abuse or neglect during their lives on farms, and many states exclude "common agricultural practices" from criminal anti-cruelty laws. Without undercover investigations, there are no effective watchdogs protecting animals from abuse in these facilities.
According to a poll conducted by an independent third party, more than two-thirds of Americans support undercover investigations by animal protection organizations. In the last decade, animal protection advocates have conducted more than 80 such investigations at animal farms in the United States, and they have uncovered horrific abuse. For example, an investigation by People for the Ethical Treatment of Animals (PETA) revealed multiple beatings of pigs with metal rods and workers sticking clothespins into pigs' eyes and faces. A supervisor was filmed kicking a young pig in the face, abdomen, and genitals to make her move and told the investigator, "Make her cry." The animal agriculture industry wants to keep millions of Americans in the dark and hide the ugly truth about what happens behind the closed doors of animal farms.
Similar investigations have resulted in criminal animal cruelty convictions; recalls of tainted meat; plant closures; citations for environmental and labor violations; evidence of health code violations; and civil lawsuits—all of which make undercover investigations and reporting an absolute necessity for protecting animals and public health and safety. Perhaps even more importantly, these investigations have drastically changed the public conversation about the treatment of farmed animals. Journalistic exposés of the animal agriculture industry have led to landmark food safety laws such as the Federal Meat Inspection Act and the Pure Food and Drug Act. These laws help protect the public from the dangers of eating animal products, such as "mad cow" disease, E. coli, and salmonella.
But to the agriculture industry, the exposure of how animals are truly treated on farms and in slaughterhouses is a threat to profits. Rather than stop abusing the animals in its care, the industry has instead chosen to keep consumers uninformed by aggressively pushing for Ag-Gag legislation that makes undercover investigations illegal—a classic case of shooting the messenger. These laws are designed to thwart the collection of evidence of wrongdoing, thereby "gagging" reporters and whistle-blowers from exposing the facts. Yet the U.S. Constitution protects free speech and freedom of the press, including journalistic exposés of the abuse animals endure when they are raised for food.
Since 2010, about half of the 50 states' legislatures have introduced at least 35 Ag-Gag bills at the behest of agricultural interests attempting to silence whistle blowing in a variety of ways. So far, a broad coalition of animal protection, free speech, labor, and journalism organizations has been successful at defeating these measures, and only eight of those bills were enacted into law in the following states: Kansas, Montana, North Dakota, Iowa, Utah, Missouri, Idaho, and North Carolina
The restrictions proposed in these Ag-Gag bills have ranged from making it illegal to photograph or videotape at agricultural facilities (or even to possess or distribute such footage), to criminalizing what one says on a job application, to mandating that anyone with evidence of farmed animal cruelty to report it immediately – forcing investigators to reveal themselves and thereby making it impossible to document larger, systematic patterns of abuse. In some instances, like in Idaho, the penalties for violating the Ag-Gag law were greater than for the animal cruelty that could be documented by an investigation.
Animal Legal Defense Fund's Lawsuits Challenging Ag-Gag Laws
The Animal Legal Defense Fund has filed suit in Utah and Idaho challenging the constitutionality of Ag-Gag laws. The public relies on journalists and activists to expose abusive and unsafe practices in farmed animal facilities. Our Constitution grants us the right to free speech, including the right to bring animal cruelty to light.
Utah
Our lawsuit in Utah is the first to challenge the constitutionality of Ag-Gag laws. This state law (Utah Code Ann. §76-6-112) makes recording the truth about agricultural operations a crime, even for reporters investigating criminal animal abuse and violations of food safety and other laws. The lawsuit was filed on behalf of Animal Legal Defense Fund, PETA, undercover investigations consultant Daniel Hauff, and Amy Meyer, who was the first person in the nation to be prosecuted under an Ag-Gag law. Meyer was charged under Utah's Ag-Gag law in February 2014 after videotaping operations at Dale Smith Meatpacking Company in Utah from the roadside. Her charges were dropped after public outcry.
In October 2013, Utah filed a motion to dismiss the case, claiming the plaintiffs lacked legal standing and failed to adequately allege violations of the Constitution. In the response to the motion to dismiss, filed in December 2013, Animal Legal Defense Fund and the other plaintiffs defended their right to bring the case, pointing out that the threat of prosecution chills their ability to expose the realities of raising animals for consumption. The opposition also explained why the Utah legislature's vitriolic motivation for passing the Ag-Gag law violates the Equal Protection Clause of the Constitution, and why federal laws designed to promote whistle-blowing should preempt state attempts to silence whistle-blowers. In August 2014, the court denied Utah's motion to dismiss the case and allowed most of the lawsuit to move forward.
Idaho
In March of 2014, Animal Legal Defense Fund and a coalition of civil liberties, animal protection, and consumer groups filed a federal suit over the controversial Idaho Ag-Gag law. The lawsuit challenges the constitutionality of this law (Idaho Code sec. 18-7042) and was filed in the U.S. District Court for the District of Idaho by Animal Legal Defense Fund, PETA, the American Civil Liberties Union of Idaho (ACLU), and the Center for Food Safety (CFS).
Like other Ag-Gag laws, Idaho's statute criminalizes whistle-blowing investigations at farmed animal facilities, and specifically targets animal advocates who expose illegal and cruel practices. Idaho's Ag-Gag law prohibits anyone from taking photos or videos at an animal farm or slaughterhouse without the owner's express consent. In the spring of 2014, Idaho filed a motion to dismiss the lawsuit. Animal Legal Defense Fund, PETA, ACLU, and CFS filed a response to the motion to dismiss and argued the issue in court in June. In September 2014, the court denied the State of Idaho's motion to dismiss the lawsuit, and decided that ALDF and the coalition could move forward against Idaho and its Ag-Gag law.
In November of 2014, ALDF and the coalition filed a motion for summary judgment, arguing that they were entitled to judgment in their favor because as a matter of law, the statute violates their right to free speech and other rights protected by the U.S. Constitution. In April 2015, the court heard oral arguments in the case.
In a landmark victory for Animal Legal Defense Fund and the coalition, the U.S. District Court for the District of Idaho held in August 2015 that the Ag-Gag law violates the First and Fourteenth Amendments to the U.S. Constitution. This marks the first time a court has declared an Ag-Gag statute unconstitutional. The court ruled that the statute violates the First Amendment by suppressing speech that criticizes animal farms and was motivated by unconstitutional animus against animal advocates—which is a violation of the Equal Protection clause of the Fourteenth Amendment. This decision is an important first step to defeating similar Ag-Gag laws across the country.
Suggested Projects, Events, and Actions
NOTE: To help fund your event, your chapter can apply for a student chapter project grant.
Education and Outreach
Organize an information table on campus to raise awareness about issues relating to Ag-Gag laws, like the abuse that farmed animals endure when they are being raised and slaughtered for consumption. Animal Legal Defense Fund can provide free tabling materials that include newsletters, stickers, brochures (such as our Farmed Animals and the Law and Factory Farms and Ag-Gag Laws brochures), and posters to help with your event.
Take Action to Stop Ag-Gag Laws Across the U.S.
Seven states still have Ag-Gag laws on the books: Kansas, Montana, North Dakota, Iowa, Utah, Missouri and North Carolina. You can help by contacting lawmakers and asking them to repeal these laws.
Guest Speakers
Host a speaker, debate, panel, or even a symposium or conference on issues relating to Ag-Gag laws.
Coalition Building
When planning a speaker panel or other event, we encourage you to look for opportunities to team up with other student groups. This will bring a wider audience to your event. For example, on the issues relating to Ag-Gag laws, your chapter might pair up with the Environmental Law Society, the National Lawyers Guild, the American Constitution Society, or the American Civil Liberties Union.
Letter Writing and Commenting
Have chapter members write letters in response to any newspaper, magazine, or online article involving Ag-Gag laws and make the case for greater transparency in animal agriculture, not less.
Newsletters
Include news relating to Ag-Gag laws or your events on this issue in your chapter newsletters or emails.
Become Active in State Legislation
Organize your members to write letters and make follow-up phone calls regarding pending legislation in your state.
Film Screenings
Screen films related to farmed animal treatment and abuse, undercover investigations, or Ag-Gag laws.
Film Suggestions
Reading List
Books
Law Articles
Online Articles
Speaker Suggestions
Matthew Liebman, senior attorney, Animal Legal Defense Fund

Attorney on Animal Legal Defense Fund's Ag-Gag cases in Utah and Idaho

Justin Marceau, of counsel, Animal Legal Defense Fund

Attorney on Animal Legal Defense Fund's Ag-Gag cases in Utah and Idaho

Matthew Strugar, attorney, People for the Ethical Treatment of Animals

Attorney for PETA on Animal Legal Defense Fund's joint Ag-Gag cases in Utah and Idaho

Will Potter, journalist, author (Green is the New Red)
James McWilliams, historian, writer, history professor, Texas State University

Dismissed plaintiff in Animal Legal Defense Fund's Ag-Gag case in Utah

Paige Tomaselli, senior staff Attorney, Center for Food Safety

Plaintiff and counsel in Animal Legal Defense Fund's Ag-Gag case in Idaho

TJ Tumasse, former undercover investigator
Cody Carlson, former undercover investigator
Please note: non-Animal Legal Defense Fund speakers may require an honoraria, which we do not fund.
Related
On March 23, 2023, Judge Julie Rubin of the federal district court in Maryland issued a decision, ruling that the United States Department of Agriculture (USDA) acted unlawfully by denying a petition for rulemaking to improve the standard for the psychological well-being of primates in research

Numerous violations documented at the facility of inadequate animal care

Alternative sentencing program in Fulton County, Georgia pairs shelter dogs with criminal defendants to offer both training and a second chance