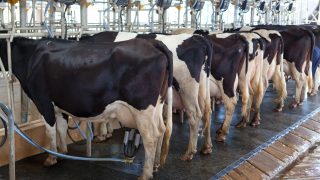 Stop a New Ag-Gag Bill – Contact the Arkansas Tourism Bureau
UPDATE – March 24, 2017:
Thank you to everyone who took action to defeat this bill. Unfortunately, Arkansas Governor Hutchinson signed HB 1665 into law, but we're not done fighting.
A proposed new Ag-Gag bill is being considered by Arkansas lawmakers, and we need your help to stop it from becoming law. Factory farms want to keep their cruel practices hidden from the public, and industry lobbyists push Ag-Gag laws to accomplish that goal.
We successfully sued Idaho and had its Ag-Gag law ruled unconstitutional. And we continue to fight in Utah and North Carolina challenging the constitutionality of their states' Ag-Gag laws. Help us stop Arkansas' Ag-Gag bill before it becomes law.
Take action now to let the Arkansas Department of Parks and Tourism know that if this bill passes, you won't be visiting.
Your help is urgently needed. House Bill 1665 has already quickly passed the Arkansas House and moved out of committee in the Senate.
The law would allow factory farm employers to sue whistleblowers directly, making them vulnerable to expensive lawsuits, all for trying to do the right thing. Such intimidation will effectively keep those who witness animal cruelty from speaking up. Arkansas's version of Ag-Gag is written so broadly that it would also ban undercover investigations of virtually all private entities, including daycare centers and restaurants. This law would silence conscientious employees who wish to report wrongdoing.
Related
Meat and dairy alternatives can use common naming conventions in the state without fear of prosecution

Public interest coalition cheers major victory in lawsuit to strike down law designed to quash undercover investigations

Today, a coalition of public interest groups, led by the Animal Legal Defense Fund, filed a lawsuit challenging the constitutionality of Iowa's new Ag-Gag law — a law that is substantively similar to an Iowa law struck down by the same federal court.