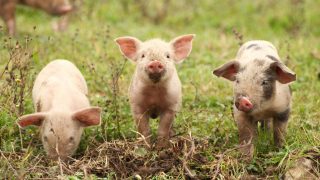 Spotlight: Kyla Dayton
Kyla Dayton is a 2021 recipient of the Animal Legal Defense Fund's Advancement in Animal Law Scholarship.
Kyla Dayton is a 2021 recipient of the Animal Legal Defense Fund's Advancement in Animal Law Scholarship. This award honors students who demonstrate a commitment to the Animal Legal Defense Fund's mission: "to advance the interests and protect the lives of animals through the legal system." Recipients are actively involved in their Animal Legal Defense Fund Student Chapter while in law school and show promise in the field after graduation.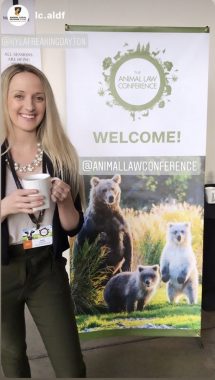 Kyla Dayton is entering her fourth year of law school in the part-time program at Lewis & Clark Law School. Prior to transferring to Lewis & Clark, Kyla reactivated and served as president of the La Verne College of Law Student Animal Legal Defense Fund chapter during her 1L year.
What Animal Legal Defense Fund student chapter activities are you proudest of and why?
The ALDF student chapter activity I am most proud of is an event that we put on during my tenure as President my first year of law school at La Verne College of Law. We raised funds and organized a screening of Dominion at the law school. We provided vegan food from Chipotle and showed students how easy and convenient it was to eat plant based. The students were all very moved by the horrifying reality that farm animals face in the food system, which was so well-documented in Dominion. At the end of the screening, we had an activist speak with our students and answer questions. It felt so good to share this information with my fellow students and to create a safe space for students who care about animal protection to connect.
Any other noteworthy experience?
Another formative experience was attending my first Animal Law Conference in 2019 and getting to be a volunteer that helped keep things running. I have dreamed about pursuing a career in animal law for the last decade, but I always felt very alone in my concern for animals, especially regarding their legal protections. I felt like people didn't take me seriously when I said I wanted to go to law school so I could practice animal law. I continued to experience socially dismissive attitudes towards the treatment of animals, and this always left me feeling like I was the only one who cared. That all changed for me when I saw first-hand how many legal professionals cared about animal law at the Animal Law Conference. Getting to meet lawyers and scholars from all around the world who cared about the same things I did was very validating and encouraging. It showed me that I am not alone in this fight and that this is a valid career choice. Also, the vegan food was amazing!
What is an animal law related goal of yours for the upcoming academic year?
I am hoping that I will get to argue in Oregon State Court this summer as a student attorney, win one of my cases, and get to participate in transferring those animals to a reputable sanctuary.
What are your plans/goals for post-graduation?
After I graduate, I want to take the California bar exam and become a litigation fellow with ALDF.
What is one piece of advice that you would like to pass on to other Animal Legal Defense Fund student chapter leaders?
Work on coalition building as much as possible. In animal law, we are most successful when we work with other causes. Learning how to build those coalitions and work with other groups early on will help you and the chapter in the long run. Look to other groups, especially other animal law groups, as allies and work together because we all want to make this world a better place and we have a better chance of doing that if we work as a team.
Learn more about the other 2021 Advancement in Animal Law Scholarship winners.
Recent News
Contact your state senator to support California's cat declawing ban, AB 2606. California could become the next state to the painful surgical procedure in which all or part of the last bone in a cat's toes are amputated.

The California Court of Appeals affirmed a ruling by a lower court recognizing Society for the Prevention of Animal Cruelty (SPCA) organizations' ability to file lawsuits against entities that violate existing animal protection laws.

Reward for information leading to the arrest and conviction of the person or people responsible for illegally shooting and killing a red wolf in Tyrrell County, North Carolina.
Help animals win the legal protections they so desperately need and deserve, and ensure they have an advocate in courtrooms and legislatures across the country.
Take Action Now