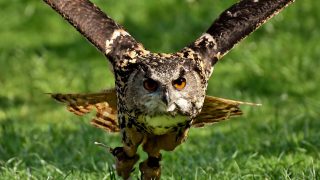 The Animal Legal Defense Fund would never be able to use the law to advance the interests of animals without the support of legal professionals nationwide. In this continuing series of spotlights, ALDF's Animal Law Program salutes attorney Rene Kathawala.
Sometimes, important advancements for animals are quiet, behind-the-scenes efforts that never make the news. But that doesn't lessen their significance or diminish the dedication of those helping to make them happen. Rene Kathawala is a perfect case in point. An attorney with Orrick, Herrington & Sutcliffe, Rene recently assisted with drafting an alliance agreement between ALDF and Lewis and Clark Law School. Without any fanfare, the agreement resulted in the first-of-its kind Center for Animal Law Studies, which provides essential programs and services for law students, guided by experienced Lewis and Clark animal law professors and ALDF attorneys.
And that is but one example of Rene's work. A graduate of the University of North Carolina (class of '96), Rene serves as Orrick's nationwide pro bono coordinator and counsel. From his office in New York City, Rene manages and initiates the firm's pro bono activities, including administrative and legal aspects. He says many of the attorneys at Orrick are interested in the rights of animals, and he is only too happy to coordinate work for non-profit organizations like ALDF.
In addition to helping draft ALDF's alliance agreement with Lewis and Clark Law School, Rene and his team have worked on two cases involving the deaths of companion animals. In one case they prepared an amicus curiae brief regarding the issue of what damages guardians can recover for the death of a companion animal, and in another case they conducted a fact and legal investigation to prepare a lawsuit for a client seeking to recover damages against the individual who intentionally killed his companion dog. They've also worked with ALDF to prepare a paper on the legal issues relating to how to make the National Academy of Sciences (NAS) Toxicity Testing Report recommendations a reality. "Among other things, the NAS Report calls for the Environmental Protection Agency to implement a toxicity testing strategy that is based on non-mammalian systems and human cells in culture [in vitro]," Rene explains. "The NAS Report points out that the current system of toxicity testing is a patchwork effort that is heavily dependent on mammalian animal testing."
Rene believes animal law has come so far in recent decades because our treatment of other human beings is an extension of how we regard animals. "It's a recognition that if we do not treat animals with the respect they deserve, that attitude has the same impact for inter-personal relationships," he says.
One has to wonder how two people at the center of another of Rene's pro bono projects treat humans. The case involves two law enforcement officers who used their Taser stun guns to kill a calf in Washington State. "This is a closely watched animal rights case involving a male calf who wandered away from his farm and was found in a grassy area behind a hotel," he says. "With no urgency or necessity, sheriff's deputies dual-tasered the animal for close to eight minutes causing significant pain, distress and, ultimately, his death." Neither deputy was charged with animal cruelty, a decision ALDF disagrees with. Rene and his colleagues drafted an amicus curiae brief on the case, which is being heard by the Washington State Supreme Court.
"Working with Rene and the team at Orrick has been an extraordinary experience for ALDF," says Pamela Hart, director of the Animal Law Program. "In addition to their legal expertise and talents, Orrick is extremely committed to animal protection. This combination is invaluable to our work at ALDF and, most importantly, to the animals we work to protect every day. We could not do what we do without the support and dedication of attorneys like Rene."
Reflecting on his pro bono work for ALDF, Rene is quick to answer which of his projects has been the most important. "I believe underlying all of the work we do is a level of dedication to ensuring that animal rights and the prevention of animal cruelty is a fundamental public right which takes this work into the pro bono realm," he says. "Thus, from my perspective, the agreement we prepared for ALDF in connection with the Center for Animal Law Studies at Lewis and Clark Law School is perhaps the most significant project because, assuming the Center is successful, a generation of students dedicated to promoting animal protection will have the most impact in achieving the aims of our pro bono attorneys who are passionate about animal rights."
We certainly hope the school produces more attorneys like Rene Kathawala. You can learn more about Rene and Orrick, Herrington & Sutcliffe at www.orrick.com.
Related
The Lewis & Clark Animal Legal Defense Fund Student Chapter had a busy semester in spring 2018, holding three big events: its annual Animal Law Networking event, the Food Law Symposium, and its MeatOut BBQ.

Golden Gate University School of Law's Student Chapter celebrated the Animal Legal Defense Fund's Speak Out for Farmed Animals Week with a variety of events.

These charges leave no doubt that the mistreatment of an aquatic animal can be taken seriously — while also raising important questions concerning these creatures' treatment under the law.