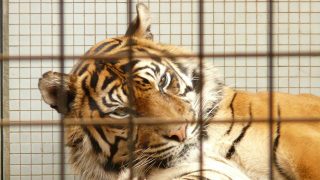 Precedent Setting Decision: Endangered Species Act Protects Captive Animals
Eighth Circuit Court of Appeals affirms roadside zoo's substandard care of endangered animals violated federal law
Contact: media@aldf.org, 201 679 7088
St. Louis, MO– Today the Animal Legal Defense Fund, the nation's preeminent legal advocacy organization for animals, scored a major victory for endangered animals living in captivity. A three-judge panel of the Eighth Circuit issued a unanimous decision upholding a district court's 2016 ruling that Cricket Hollow Animal Park (formerly Cricket Hollow Zoo), a roadside zoo in Manchester, Iowa, violated the Endangered Species Act (ESA) by providing substandard care for the four tigers and three lemurs who were the subject of the lawsuit.
"The court's decision affirms that endangered animals enjoy the same protections whether in captivity or the wild," said Animal Legal Defense Fund Executive Director Stephen Wells. "The Eighth Circuit's ruling puts roadside zoos, circuses and private owners on notice that they can no longer ignore endangered animals' unique biological and psychological needs."
The district court relied on an extensive record including expert witnesses, admissions from the owners of Cricket Hollow Zoo and U.S. Department of Agriculture inspection records documenting dozens of serious violations including filthy enclosures and inadequate veterinary care. The district court also prohibited the defendants from obtaining endangered animals in the future unless they demonstrate they can provide proper care.
In addition to the severe mental and physical suffering endured by the roadside zoo's endangered animals, the entire facility failed to meet the minimal standards of the Animal Welfare Act. After several lawsuits and challenges by the Animal Legal Defense Fund, the U.S. Department of Agriculture revoked Cricket Hollow's license and issued a $10,000 fine against the owners in December 2017.
Unfortunately, Cricket Hollow Zoo is only one of many roadside zoos across the country that fail to provide suitable environments for endangered animals. The Animal Legal Defense Fund files lawsuits against roadside zoos and other attractions that do not meet the standards of care required by the Animal Welfare Act and Endangered Species Act.
Related
Today the House of Representatives voted 272 to 114 to pass the Big Cat Public Safety Act. Endorsed by the Animal Legal Defense Fund, the bill prohibits the private ownership of big cats and makes it illegal for exhibitors to allow direct contact with cubs.

Today, the Animal Legal Defense Fund and Rise for Animals filed a lawsuit against the United States Department of Agriculture (USDA) under the Freedom of Information Act (FOIA) for the agency's failure to respond to a request for public records related to the inconsistent inspection process of nonhuman primate research facilities.

The Animal Legal Defense Fund applauds the closure of the Greater Wynnewood Exotic Animal Park, the zoo depicted in the Netflix documentary, "Tiger King," following the U.S. Department of Agriculture's (USDA) suspension of its owner's exhibitor license.