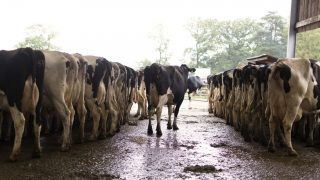 Ninth Circuit Affirms Dismissal of Almond Milk Labeling Lawsuit
Written by Nicole Pallotta, Academic Outreach Manager
In an unpublished opinion issued December 20, 2018, the Ninth Circuit Court of Appeals affirmed the dismissal of a class action against Blue Diamond Growers.
The lawsuit alleged that the company's almond milk products were mislabeled under Food and Drug Administration (FDA) law, and use of the term "almond milk" misled consumers into thinking the products were nutritionally equivalent to dairy milk. The complaint claimed that almond milk should be labeled "imitation milk" to prevent consumers from being confused about the differences between almond milk and dairy milk.
The appellate court affirmed the district court's dismissal on preemption grounds. The court found that "almond milk is not a 'substitute' for dairy milk . . . because almond milk does not involve literally substituting inferior ingredients for those in dairy milk."
Thus, the federal Food, Drug, and Cosmetic Act (FDCA) does not require almond milk to stop using the term "milk," include a nutritional comparison of almond milk to dairy milk, or use the words "imitation milk." The plaintiff's claims, which sought to impose these additional requirements, were "not identical to" federal law and were thus preempted.
The appellate court also agreed with the lower court that no reasonable consumer would "assume that two distinct products have the same nutritional content" and affirmed the dismissal of the plaintiff's claims under California's consumer protection laws.
Further Reading:
Related
This week the Animal Legal Defense Fund was joined by several nonprofit animal protection organizations in submitting comments urging the U.S. government not to bow to pressure from the factory farming industry in its regulation of slaughter-free meat.

Missouri passed a law that prohibits many products — including plant-based and cellular meat — from identifying themselves as "meat." The new legislation, which became effective on August 28, 2018, carries criminal penalties of prison time and fines.

Last night, a coalition of organizations asked the court to immediately stop enforcement of a new Missouri law that prohibits "misrepresenting" a product as "meat" unless it comes from a slaughtered animal.
Help animals win the legal protections they so desperately need and deserve, and ensure they have an advocate in courtrooms and legislatures across the country.
Take Action Now