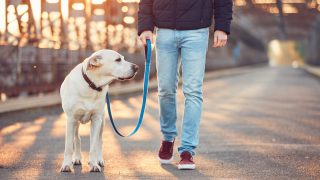 New York Expands Law Allowing Companion Animals on Public Transit in Emergency Evacuations
Written by Nicole Pallotta, Academic Outreach Manager
In October 2018, Governor Andrew Cuomo signed legislation permitting companion animals to board any public transportation service in the event of a state of emergency and evacuation. One year prior, Gov. Cuomo signed the so-called "Noah's Ark Bill," which allowed companion animals to be transported on Metropolitan Transit Authority (MTA) buses and trains during emergencies.
The new law expands the scope of the previous legislation to cover all forms of public transit, including Port Authority (PATH) trains. New Jersey passed similar legislation in 2013, after many people refused to evacuate during Hurricane Sandy because they had no means to transport their animal companions. However, identical legislation was needed in New York before a law covering Port Authority, over which both states have jurisdiction, could take effect.
Gov. Cuomo said, "For many New Yorkers, their pets are members of their families, and no one should be forced to abandon them in the event of an evacuation."
There have been significant legislative improvements in emergency evacuations in the years since Hurricane Katrina occurred in 2005. The year after this disaster — which resulted in many people not being able to evacuate with their companion animals — Congress passed the federal Pet Evacuation and Transportation Standards (PETS) Act, which stipulated that as a requirement for states, cities, and counties to receive federal funding for their disaster relief plans, those plans must "account for the needs of individuals with household pets." Since then, more than 30 states have amended their disaster relief plans to account for the needs of companion animals.
For more information, see the Animal Legal Defense Fund's resource: The PETS Act: Companion Animals Affected by Natural Disasters.
Since 1979, the Animal Legal Defense Fund has led the charge to win animals the legal protection they so desperately need—and deserve. Your generous gift will assure that we can continue to take on cases that advance the interests of animals.
Donate
Related
Ask your state legislators to provide an opportunity for dogs and cats used in research to find loving homes once their time in a research laboratory has come to an end by supporting An Act Protecting Research Animals.

Animal Legal Defense Fund and CPM seek to hold Kenney family accountable for defrauding customers and harming dogs in violation of California law

Animal Legal Defense Fund and CAARE continue work to protect animals used in research