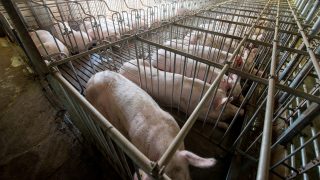 New Jersey: End the Cruel Confinement of Mother Pigs and Calves Used for Veal
This action is for New Jersey residents only.
New Jersey residents have a chance to help protect pigs and calves from some of the cruelest conditions in the factory farming industry.
A bill, A.1970/S.1298, which would ban the use of gestation crates and veal crates is currently being considered in the state legislature. Sponsored by Senator Vin Gopal and Assemblyman Raj Mukherji, this bill has bipartisan support..
Gestation crates virtually immobilize mother pigs for nearly their entire lives; they prevent the pigs from even being able to turn around or take more than a step forward or backward. Veal crates are similarly cruel. Within days or even hours of birth, calves are taken away from their mothers and locked in these crates, which are so small they can barely move.
Please help end the cruel intensive confinement of mother pigs and calves used for veal in New Jersey by urging your state lawmakers to support and co-sponsor A.1970/S.1298.
Want to do even more to help protect pigs and calves from cruel confinement? Consider scheduling a meeting with your legislator to urge them to support and co-sponsor this important bill. Meetings are short, simple, and can be held virtually. Want to learn more? Read our step-by-step guide to advocating for animals with your elected officials.
Join the Animal Legal Defense Fund's email list to stay up to date on lawsuits, legislation, and regulations affecting animals.
Sign Up Now
Related
The U.S. Court of Appeals for the Fourth Circuit handed an important win to plaintiffs in a lawsuit challenging North Carolina's Ag-Gag law, ruling that undercover investigations and whistleblowing are considered newsgathering activities protected by the First Amendment.

Public interest coalition celebrates another win against unconstitutional statute barring undercover investigations at factory farms

Edie Falco narrates the Animal Legal Defense Fund film demanding transparency in factory farming