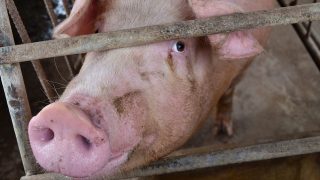 New Jersey: End the Cruel Confinement of Mother Pigs and Calves Used for Veal
This action is for New Jersey residents only.
A bill banning the use of gestation crates and veal crates in New Jersey is pending in the state legislature. Gestation crates virtually immobilize mother pigs for nearly their entire lives. The crates are so small mother pigs can't even turn around or take more than a step forward or backward. Because of this lack of movement, they suffer muscle and bone deterioration that often leads to debilitating injuries. Veal crates are similarly cruel. Within days or even hours of birth, calves raised for veal are taken away from their mothers and locked in these crates, which are so tiny the animals can barely move.
Please help end the intensive confinement of mother pigs and calves used for veal in New Jersey by urging your state senator to support S.3401/A.5236. Call your state legislators, then send follow-up emails, urging them to support and co-sponsor this important bill.
Call your state senator and two state assembly members. If you're able to make a phone call, please do so as phone calls have a greater impact than emails. You can use this message: "As your constituent, I urge you to support and co-sponsor S.3401/A.5236, banning the use of gestation crates and veal crates."
After calling, please send a follow-up email to your legislators using the form below. Personalizing your message will help it stand out.
Join the Animal Legal Defense Fund's email list to stay up to date on lawsuits, legislation, and regulations affecting animals.
Sign Up Now
Related
The United States District Court for the Northern District of California ruled in favor of the Animal Legal Defense Fund and its co-plaintiffs, denying an attempt by the Food and Drug Administration (FDA) to dismiss a lawsuit against the agency.

The Animal Legal Defense Fund released the second in a series of white papers — COVID-19 and Factory Farming —providing policy recommendations to address industrial animal agriculture's role in our heightened risk for zoonotic diseases outbreaks, like COVID-19, and its potential to be the source of the next global pandemic.

Video shows malicious acts of violence toward cows, gross neglect of calves