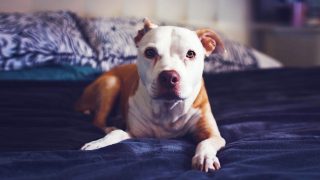 New Jersey Enacts Law to Protect Animal Cruelty Victims and Other At-Risk Animals
The Animal Legal Defense Fund celebrates New Jersey authorizing animal care agencies to seek payment of court-approved care expenses from those whose animals were seized from their possession due to alleged cruelty.
Contact: media@aldf.org
On July 26, New Jersey Gov. Phil Murphy took action in support of animal victims by signing S.981 into law. Prior to its enactment, New Jersey was one of only a few remaining states lacking an appropriate process in law to ensure that the costs of care for animal victims removed from abuse are adequately addressed. The bipartisan legislation was strongly supported by legislators and the state's animal protection organizations, as well as the Animal Legal Defense Fund. It passed the state Assembly 68-3 and the state Senate 37-0.
"This legislation provides protection to pets who are the victims of neglectful or abusive owners and other at-risk animals in our communities," says State Sen. Patrick Diegnan. "By holding owners responsible for the food, housing, and veterinary expenses associated with sheltering animal cruelty victims, this bill will help ensure that they and other at-risk animals receive the care they need, while also relieving shelters of significant added costs hindering their critical work. This is truly a gamechanger for New Jersey's shelters and the animals they protect. I thank Assemblyman Mukherji for championing this bill in the Assembly and the advocates who pushed for this crucial animal welfare measure."
When animals are harmed by their "owners" and lawfully seized, they need and deserve good care. Unfortunately, however, New Jersey's taxpayer- and donor-supported animal shelters can have difficulty absorbing the unpredictable costs of caring for these and other at-risk animals. And yet, despite their limited resources, New Jersey shelters have been forced to assume all of these costs (e.g., veterinary care, food and other supplies, kennel space, staff time) for months and even years at a time, until the person from whom the animal was lawfully seized either voluntarily forfeits legal ownership or is compelled to relinquish the animal in the course of the criminal animal cruelty proceeding. This can leave unhoused and other vulnerable animals unable to obtain needed assistance from the state's shelters. In fact, law enforcement may decide not to intervene on behalf of at-risk animal victims if shelter space and care are not assured.
New Jersey currently permits reimbursement — or restitution — of animal care costs after a criminal case's conclusion. However, animal shelters are, unsurprisingly, rarely able to recover these funds from abusers at that time.
"Sen. Diegnan's and my cost of animal care bill will bring New Jersey in line with the 40 other states that have enacted these laws to keep pets out of the hands of abusers and ensure that our animal friends receive the care they need while awaiting their forever homes," says Assemblyman Raj Mukherji. "No longer will animal abusers be able to game the criminal justice system to keep animals in a cycle of terror and abuse."
This is a long-anticipated victory for animal victims and those who care for them. New Jersey joins dozens of other states in holding alleged abusers accountable for costs of care for animal victims while they are in protective custody or requiring the animals to be relinquished — allowing victims an opportunity to heal and have their physical and psychological needs properly addressed.
While S.981 explicitly authorizes shelters to use foster homes and provide care to improve an animal's physical and psychological well-being, foster homes are scarce, and even the best shelter environment may not spare vulnerable animals chronic stress and the consequent behavioral deterioration that can impede subsequent adoption.
Related
The gift of more than $1 million will fund the program over the next four years

This action is for U.S. residents only.

The victory follows the passage of a factory farming law and efforts to curtail the construction of new mega dairies in the state
Join the Animal Legal Defense Fund's email list to stay up to date on lawsuits, legislation, and regulations affecting animals.
Sign Up Now