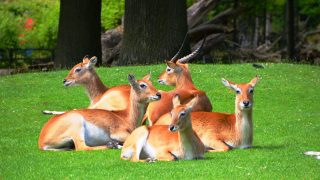 Meet the Animals You're Protecting Through the Stop the Hunt Campaign!
Stop the Hunt aims to end canned hunting and trophy hunting in the United States and across the world. Our Canned Hunt Permit Tracker lists permit applications submitted by canned hunting operations (also called "hunting ranches"). These operations profit off the importation or breeding of exotic and endangered animals by charging people money to kill them for sport. Our Stop the Hunt page also fights back against trophy hunting by opposing import permits. Every year, Americans travel to foreign countries to kill endangered animals and then apply for a permit to import the "trophies" (the bodies of the dead animals) back into the United States. Like canned hunting operations in the U.S., this practice does nothing to benefit animals.
You're probably familiar with some of the animals killed by sport hunters such as zebras or lions. But there are a few other species routinely exploited by the trophy hunting industry that are not as well known. These animals are just as deserving of our protection. Read on to learn more about barasingha, red lechwe, Eld's deer, bontebok, and the Arabian oryx.
Barasingha
Barasingha deer are gentle animals also known as swamp deer. Compared to their American counterparts, the white-tailed deer, they are quite hefty with mala barasingha weighing up to 600 pounds. Barasingha are herbivores, eating primarily grass, leaves, and aquatic vegetation. They live in large social groups numbering from 8 to 20 individuals. The male barasingha is known for his stunning antlers. The name "barasingha" comes from a Hindu word meaning "twelve-tined," referring to the male's voluminous, crown-like antlers.
Native to India and Nepal, they are frequently farmed (bred to be killed) by canned hunting operations across the United States. Sadly, their distinctive antlers make them targets of sport hunters for whom killing a stag with many antler points is something to boast about. Barasingha are classified as endangered, fewer than 5000 animals exist in the wild today.
Red Lechwe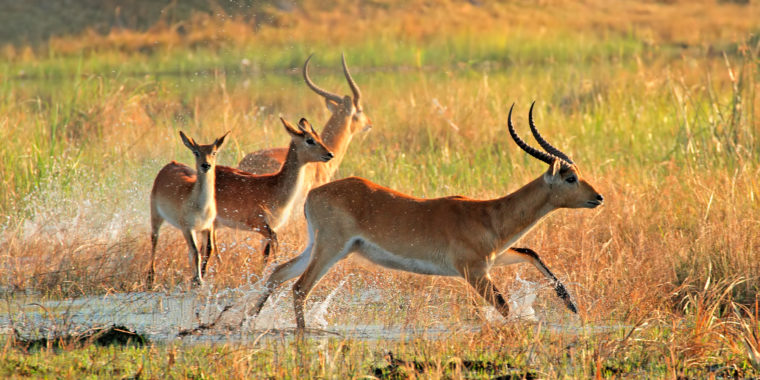 Red lechwe are a species of antelope that live in Southern Africa. They love to spend time in the water and are well adapted to marshy areas. Red lechwe can run very quickly in knee-deep water because their fur is coated in a greasy substance that acts as a natural water-repellent. Their splayed and elongated hooves are well-designed to move easily through wet or muddy earth. However, on firmer ground, they have difficulty moving quickly. Red lechwe live in huge, single sex herds, numbering thousands of members. Male red lechwe have beautiful, distinctive antlers that resemble long spirals. Though they are classified as a threatened species, red lechwe are bred to be killed by sport hunters who pay thousands of dollars for the opportunity to hunt them in the United States.
Eld's Deer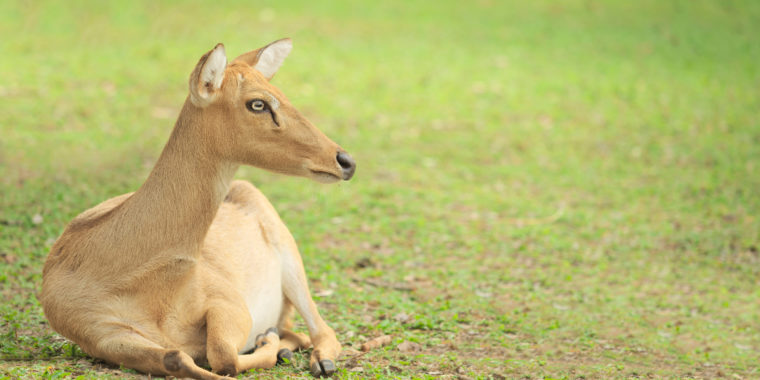 Eld's deer, also known as brow-antlered deer, are an endangered species from Southeast Asia. In their native home, Eld's deer are threatened by hunters (both for bushmeat and for use in traditional medicines) and habitat loss. Eld's deer are agile, graceful animals with long, thin legs. They are known for their curving antlers that extend nearly 40 inches long. Eld's Deer are herbivores, eating mainly grass, fruits, and plants though they also enjoy farmed crops like rice and peas, if available. Females tend to live in small groups with their fawns while males are solitary.
Bontebok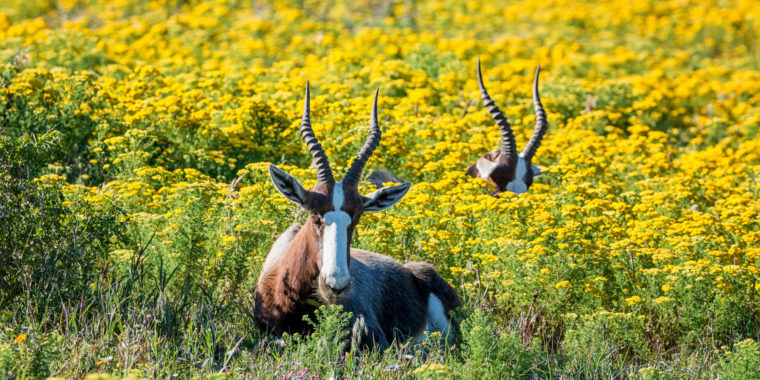 The bontebok is an endangered antelope primarily found in South Africa. The bontebok is easily identified by her deep chocolate coat with a white stripe extending down the front of her face. Unlike many other species, both male (rams) and female (ewes) bontebok have ring-shaped horns that grow up to 18 inches. Though they are antelopes, the bontebok is not very good at jumping. Surprisingly, they are skilled at crawling underneath objects instead. Once abundant, hunting drove the species close to extinction. Today, bontebok are extensively farmed by canned hunting operations. The vast majority of bontebok live on these private farms instead of the wild. In other words, most of the bontebok alive today are bred to die.
Arabian Oryx
Though the Arabian Oryx is sometimes called the Arabian unicorn, they are actually a type of antelope found in Jordan, Israel, Saudi Arabia, and the United Arab Emirates. Arabian Oryx live in desert regions and thrive in harsh habitats with little water and humidity. Their bodies are perfectly designed to survive hot, dry conditions. Their white fur reflects the sun, and their splayed hooves are well-adapted to walking on sand. Black spots around their eyes act as permanent "sunglasses." In 1972, there were only six wild Arabian Oryx left due to rampant hunting. Though still endangered 45 years later, there are roughly 1000 Arabian Oryx in the wild thanks to conservation efforts. Despite their fragile existence, like the other animals in this list, Arabian Oryx are imported, bred, and hunted for sport at ranches in the United States.
Related
U.S. District Court has ruled in favor of the Animal Legal Defense Fund following its lawsuit to vacate rules imposed by the U.S. Department of the Interior in 2019 under the Trump administration that weakened the Endangered Species Act (ESA).

Reward for information leading to the arrest and conviction of the person or people responsible for illegally shooting and killing a red wolf in Tyrrell County, North Carolina.

The lawsuit alleges federally endangered and threatened animals such as the tigers, lions, and ring-tailed lemurs are receiving inadequate care at Tiger Creek