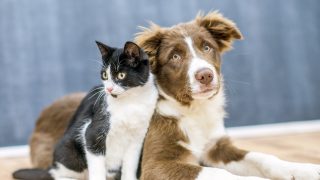 Massachusetts: Ask Your State Legislators to Co-Sponsor Critical Animal Protection Bills in 2021
This action is for Massachusetts residents only.
The 2021-2022 legislative session in Massachusetts is underway, and your help is needed to ensure that strengthening the Commonwealth's animal protection laws is a priority. Ask your state legislators to co-sponsor a list of critical animal protection bills this session.
An Act to protect animals from convicted animal abusers(H.1824/S.1111) Sponsors: Rep. Nguyen, Rep. Hill, Sen. Moore
An Act relative to the use of elephants, big cats, primates, giraffes, and bears in traveling exhibits(H.3776/S.2251) Sponsors: Rep. Ehrlich, Rep. Jones, Sen. Tarr
An Act further regulating the enforcement of illegal hunting practices (H.904/S.587) Sponsors: Rep. Ehrlich, Rep. Ferrante, Sen. Moore
An Act to upgrade hen welfare and establish uniform cage-free standards for egg-laying hens (H.864/S.36) Sponsors: Rep. Cahill, Sen. Lewis
An Act prohibiting the sale of fur products (H.965/S.623) Sponsors: Rep. Lewis, Sen. Velis
The Animal Legal Defense Fund is also supporting other key animal protection bills, including the following.
An Act protecting research animals("Beagle Bill") (H.901/H.890/S.613) Sponsors: Rep. Dykema, Rep. DuBois, Sen. Tarr
An Act concerning the use of animals in product testing (H.966/S.584) Sponsors: Rep. Lewis, Sen. Montigny
An Act enhancing the issuance of citations for cruel conditions for animals(H.1840/S.1097) Sponsors: Rep. Puppolo, Sen. Montigny
An Act relative to ivory and rhinoceros horn (H.903/S.576) Sponsors: Rep. Ehrlich, Sen. Lewis
An Act banning the retail sale of cats and dogs in pet shops(H.384/S.230) Sponsors: Rep. Higgins, Sen. O'Connor
An Act protecting the health and safety of puppies and kittens in cities and towns(H.2148/S.1322) Sponsors: Rep. Campbell, Sen. Chandler
An Act to Maintain Stable Housing for Families with Pets in an Economic Crisis and Beyond(H.1437/S.885) Sponsors: Rep. Rogers, Sen. Gobi
Several bills to protect dogs in daycares and boarding facilities(H.305 "Ollie's Law"/H.949/S.582/S.595) Sponsors: Rep. Ashe, Rep. Kane, Sen. Montigny, Sen. O'Connor
We also urge legislators not to co-sponsor any bills that would be harmful to animals, including bills that would weaken regulations relating to trapping fur-bearing mammals (H.913/H.1016/H.1022/S.554) and repeal the law prohibiting Sunday hunting (H.914/H.984/H.1015/H.1019/H.1032/S.547).
Your state legislators need to know that you believe animal protection should be a legislative priority.
Join the Animal Legal Defense Fund's email list to stay up to date on lawsuits, legislation, and regulations affecting animals.
Sign Up Now
Related
The Act has authority to protect federally endangered and threatened animals such as the tigers, lions, and ring-tailed lemurs enduring inadequate treatment at Tiger Creek

International Fur Trade Federation agreed to dismiss its appeal, ending case in decisive victory for animals

Class-action lawsuit alleges thousands in California purchased dogs under the false belief they were rescue animals