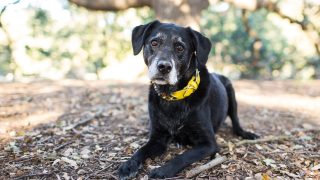 Massachusetts: Ask Your Legislators to Strengthen Animal Cruelty Laws
This action is for Massachusetts residents only.
The 2023-2024 Massachusetts legislative session is underway, and your help is needed to ensure that updating the Commonwealth's animal protection laws is a priority. Ask your state legislators to co-sponsor the Humane Protection of Animals Act (S.1142/H.1718).
This omnibus legislation will give law enforcement, animal control officers, judges, and district attorneys more options when it comes to addressing situations involving animals before they become life threatening, and then provide pre- and post- conviction options during trial and sentencing.
Your state legislators need to know that you believe Humane Protection of Animals Act should be a legislative priority. Contact your legislator today!
Related
This action is for U.S. residents only.

The victory follows the passage of a factory farming law and efforts to curtail the construction of new mega dairies in the state

Lawsuit filed by the Animal Legal Defense Fund and The Good Food Institute asserts that the law imposes unclear and vague standards on plant-based meat producers