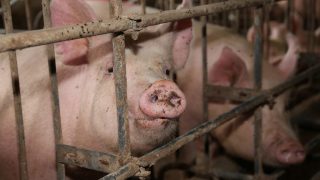 Iowa Ag-Gag Law 2.0 is Unconstitutional
Contact: media@aldf.org
Iowa – We are deeply disappointed that despite fierce opposition from the public, Iowa has enacted a new Ag-Gag law just months after a federal court struck down a similar Iowa law that criminalized investigations at factory farms, slaughterhouses, and puppy mills. This blatant attempt to circumvent the federal court's ruling and stifle free speech about the appalling conditions that animals endure in industrial animal agriculture is unconstitutional.
The bill creates a new crime – called "agricultural production facility trespass" – that makes it illegal for a person to gain access to an agricultural production facility through deception if the person intends to cause an "injury" to the "business interest" of the facility. But exposing horrific abuses, such as slamming piglets into concrete floors and confining animals in cages so small that they cannot stand up or turn around, inevitably damages a business' reputation.
The right to free speech is enshrined in our Constitution, and undercover investigations are one of the few avenues through which the public receives critical information about animal agriculture.
The coalition is composed of the Animal Legal Defense Fund, People for the Ethical Treatment of Animals (PETA), the Center for Food Safety, Public Justice and the Law Office of Matthew Strugar.
Related
Actors Paul Wesley, Christina Ricci, Stevie Van Zandt and dozens of native and resident celebrities join the Animal Legal Defense Fund in an open letter urging the state's legislators to end the intensive confinement of mother pigs and calves in New Jersey.

The United States District Court for the Northern District of California ruled in favor of the Animal Legal Defense Fund and its co-plaintiffs, denying an attempt by the Food and Drug Administration (FDA) to dismiss a lawsuit against the agency.

The Animal Legal Defense Fund released the second in a series of white papers — COVID-19 and Factory Farming —providing policy recommendations to address industrial animal agriculture's role in our heightened risk for zoonotic diseases outbreaks, like COVID-19, and its potential to be the source of the next global pandemic.