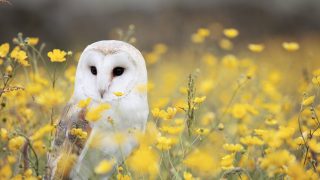 How HBCU Law Students Can Make a Difference for Animals – and Help Vulnerable Communities Along the Way
By Akisha Townsend Eaton, Senior Pro Bono Manager
Today, I'm the Senior Pro Bono Manager at the Animal Legal Defense Fund. But a little over a decade ago, I was a law student wishing to pursue my dream career in animal law. Knowing that full-time positions in the field after law school were few and far between, I decided to choose the school that offered me the best opportunity to get a foothold in this burgeoning area of practice. At that time, that school was Georgetown Law. Today, thanks to the Animal Legal Defense Fund's new scholarships, I am proud to say that historically Black colleges and universities (HBCUs) are among the top schools in the nation for providing an unparalleled opportunity to gain experience in animal law.
From providing me numerous opportunities through my Animal Legal Defense Fund Student Chapter to granting me scholarship funding, the Animal Legal Defense Fund opened the door to countless opportunities that eventually allowed me to secure a position in my dream field. I've been able to serve in various animal law roles since graduation.
Immediately prior to coming to the Animal Legal Defense Fund, I was a legislative attorney working to advance local, state, and federal protections for animals. I even enjoyed the chance to advocate for animals at the United Nations. Today at the Animal Legal Defense Fund, I have the privilege of working with attorneys across the country, and sometimes internationally, who are interested in assisting us in our work on a pro bono basis — working to protect animals in all types of settings, ranging from animals in captivity at large institutions, to wildlife, to companion animals at home.
One of the reasons I was excited to pursue a career in animal law was because I knew that animal law as a practice area was relatively new and ripe for innovation. I knew that any contribution I made as a clerk or attorney in the field would have the potential to change history. The same remains true today.
Anyone who has practiced animal law will also tell you that it is a field that requires out–of–the–box thinking like no other. Animal law intersects with a number of other areas of law, including but certainly not limited to constitutional law, consumer protection law, environmental law, and even international trade law. The recipients of these HBCU scholarships will have the chance to pursue a clerkship assisting in one or more of our focus areas, exploring intersections like these. The skills they learn through their clerkships will be invaluable wherever they go, be it inside or outside of animal protection law. In fact, our previous clerks are now flourishing in careers in a variety of settings, including large firms, other public interest fields, and the government.
Another unexpected bonus of my work has been the ability to advance protections for some of the most vulnerable individuals and communities through the vehicle of animal law. Examples include supporting farmed animal protection through legislation and litigation that also improve conditions for workers, and neighbors negatively impacted by animal processing facilities. These workers and neighbors are often disproportionately people of color. By working on legislation that includes companion animals of domestic violence victims in protective orders, I've helped victims in leaving dangerous situations more easily. And most recently during the COVID-19 pandemic, I've worked to advance anti-eviction legislation and executive orders that will allow people and their companion animals to stay together.
That the Animal Legal Defense Fund chose HBCUs for these scholarships, the first of their kind anywhere in the world, is not an accident. Attorneys with a diversity of backgrounds, skill sets, and experiences are critical to shaping the future of animal law — especially given that in the near future, the majority of communities in the United States who will be interacting with animals directly or indirectly will likely be communities of color.
I'd also be remiss not to mention that the animal law movement was inspired in large part by the civil rights movement. Our victories can be attributed to legal trailblazers such as Justice Thurgood Marshall, Charles Hamilton Houston, and other HBCU graduates. Today, HBCU graduates are making key decisions that directly and indirectly impact animal law as judges, county and city attorneys, and legislators.
Yet despite these accomplishments, African American attorneys are vastly underrepresented in the field of animal law as a full-time profession and have made up only a very small percentage of clerks. And without the perspectives of such contributors, our work is incomplete. I hope HBCU law students will consider this exciting opportunity as one that can advance your legal career in a way no other practice area can — all while serving the needs of voiceless. Thank you for listening.
Join the Animal Legal Defense Fund's email list to stay up to date on lawsuits, legislation, and regulations affecting animals.
Sign Up Now
Related
The $25,000 scholarship is available to a second-year law student at the University, and includes a clerkship with the nonprofit

The $25,000 scholarship is available to a second-year law student at the University, and includes a clerkship with the nonprofit

This action is for U.S. residents only.