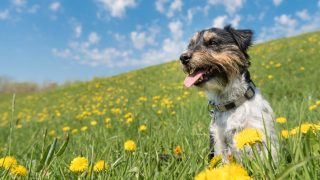 Animal Legal Defense Fund and North Carolina Central University School of Law Partner to Offer Scholarship and Clerkship
The $25,000 scholarship is available to a second-year law student at the University, and includes a clerkship with the nonprofit
Contact: media@aldf.org
SAN FRANCISCO, CA — Today, the Animal Legal Defense Fund and North Carolina Central University announced a $25,000 scholarship to be awarded to a second-year law student at North Carolina Central University School of Law in addition to a paid clerkship at the nonprofit that will provide experience in animal law. Animal law is the combination of statutory and case law that relates to or has an impact on nonhuman animals.
The Animal Legal Defense Fund works closely with law students and law professionals to advance the emerging field of animal law while moving toward the day when it is part of the curriculum at each and every law school. North Carolina Central University School of Law and the Animal Legal Defense Fund will next be working together to offer an animal law class to students at the law school.
The clerkship with the Animal Legal Defense Fund will provide the student insight into animal law issues, a purview into the animal protection movement and will complement their resume if they choose to seek out additional animal law opportunities after they graduate in a growing field of interest.
"This scholarship provides students at NCCU School of Law with the opportunity to gain exposure to the growing area of Animal Law," says NCCU Law School Dean Browne Lewis. "We look forward to fostering a long-term partnership with the Animal Legal Defense Fund."
"It's essential that students with diverse backgrounds and experiences are able to gain exposure to the emerging field of animal law," says Animal Legal Defense Fund Executive Director Stephen Wells. "This scholarship and clerkship are designed to not only offer the opportunity to advocate for animals through the legal system, but to highlight its intersectionality with other forms of law."
All North Carolina Central University law students have the opportunity to join the Animal Legal Defense Fund North Carolina Central University School of Law Student Chapter, an official student organization. Through the chapter, the Animal Legal Defense Fund offers educational opportunities and grants to law students. Student chapters are a vital part of the growing animal law movement as forums for education and scholarship exploring the impact the law has on animals.
About North Carolina Central University
North Carolina Central University (NCCU) prepares students to succeed in the global marketplace. Consistently ranked as a top Historically Black College or University, NCCU's flagship programs in the sciences, education, law, business, nursing and the arts prepare students for professions ranging from clinical research to information science. Founded in 1910, NCCU remains committed to diversity in and access to higher education. With a mission to investigate health disparities, the university's two state-of-the-art research institutes give students real-world experience working alongside faculty researchers and pharmaceutical and biotechnology industry professionals. The university's Strategic Plan 2019-2024, Charting a New Landscape for Student-Center Success, focuses on four areas: student access and success; innovation, research and entrepreneurship; collaboration and partnerships; and institutional sustainability. Visit www.nccu.edu.
Join the Animal Legal Defense Fund's email list to stay up to date on lawsuits, legislation, and regulations affecting animals.
Sign Up Now
Related
An international fight to protect Pablo Escobar's hippos from slaughter results in a U.S. federal court order recognizing animals can be "interested persons"

The USDA fought to keep the numbers hidden from public view, ultimately paying $15,000 in attorneys fees in settlement

Today the Delaware County district court granted a motion for contempt filed by the Animal Legal Defense Fund against Cricket Hollow Zoo and its owners, Pamela and Thomas Sellner, seeking the whereabouts of more than 100 animals who "disappeared" prior to a court-ordered rescue.