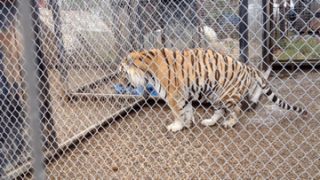 Federal Court Clears Path for Citizen Intervention in Animal Welfare Act Proceedings
Decision in Animal Legal Defense Fund Case Comes Just Days After Agency Revokes Citizen Access to Inspection Reports
Contact: media@aldf.org
Washington, D.C. – Yesterday, Animal Legal Defense Fund won a major victory for government transparency and citizen participation in the enforcement of laws meant to protect animals.
The United States District Court for the District of Columbia ruled that administrative law judges must consider advocates' motions to intervene in pending enforcement actions against alleged violators of the federal Animal Welfare Act (AWA). This opportunity for citizen participation comes at a crucial time, considering the United States Department of Agriculture (USDA) just abruptly removed all enforcement records regarding puppy mills, research laboratories and roadside zoos regulated under the AWA from its website.
"Giving citizens an opportunity to advocate on behalf of animals who are suffering is a significant step forward," says Animal Legal Defense Fund Executive Director Stephen Wells. "In light of the USDA's recent decision to obstruct public access to important government records, this ruling gives us another tool to protect animals."
Yesterday's decision concerns the Animal Legal Defense Fund's efforts to intervene in the USDA's enforcement action against the Cricket Hollow Animal Park (formerly known as the Cricket Animal Zoo), a notorious roadside zoo sued twice by the Animal Legal Defense Fund. After more than 10 years of open and obvious violations of the AWA by Cricket Hollow Zoo, the USDA finally initiated an enforcement proceeding against the roadside zoo.
But when the Animal Legal Defense Fund offered to provide USDA with documents proving cruel treatment of animals at Cricket Hollow, the USDA flatly rejected the assistance. These documents, which the Animal Legal Defense Fund obtained in its successful lawsuit against the zoo under the Endangered Species Act, illustrate repeated disregard for the welfare of the animals in its care.
Rebuffed in its efforts to informally assist the USDA, the Animal Legal Defense Fund moved to intervene in the pending enforcement proceeding to offer the evidence directly to the presiding administrative law judge. The administrative law judge rejected the motion.
Yesterday's groundbreaking decision vacates the administrative law judge's decision, holding that the Animal Legal Defense Fund's interests in protecting animals in general, and the Cricket Hollow animals in particular, were within the scope of the enforcement proceedings.
The Court further noted that the administrative law judge had articulated no rationale for finding that the Animal Legal Defense Fund's intervention would interfere with the orderly conduct of the proceeding. The case has been remanded back to the administrative law judge to reconsider the Animal Legal Defense Fund's intervention motion. Further, the court recognized "the important role played by citizens groups" in the administration of laws and that public participation by these groups "serves the public interest."
Related
Animal Legal Defense Fund moves for contempt order against Cricket Hollow Zoo and owners who removed animals before rescue in violation of court order

Media invited to press briefing after multiple groups work together to rescue animals after court ruling orders their immediate removal from Cricket Hollow Zoo

Animal Legal Defense Fund wins lawsuit against Iowa roadside zoo, owners prohibited from obtaining or owning animals