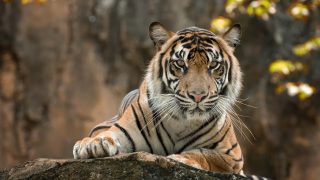 Era of Exploiting Tigers Onstage Ends with Siegfried Fischbacher's Passing
Fischbacher, with his business partner Roy Horn, ran an infamous Las Vegas show that forced white tigers and lions to perform tricks in front of large audiences.
Contact: media@aldf.org
WASHINGTON, D.C. — With the passing of Siegfried Fischbacher, an era of animal abuse comes to a close. For decades, Fischbacher, with his business partner Roy Horn, ran an infamous Las Vegas show that forced white tigers and lions to perform tricks in front of large audiences. Their act was closed after Roy Horn was almost mauled to death by a tiger during a "Siegfried & Roy" show at The Mirage in 2003. Roy Horn passed away in 2020.
"Parading tigers on stage amid flames and flashing lights for our entertainment belongs in the history books," says Animal Legal Defense Fund Executive Director Stephen Wells. "Siegfried & Roy glamourized the exploitation of tigers and lions for far too long. Tigers belong in the wild, not in mansions or the Las Vegas strip."
But even after their stage show ended, the men continued to exploit big cats, breeding and exhibiting them at The Mirage along with other animals, including bottlenose dolphins. Despite trying to spin the captivity of big cats as "conservation," the lives of the animals in Siegfried & Roy's possession were nothing like their wild counterparts. Tiger cubs, separated from their mothers soon after birth, were quickly confined to tiny cages, a fraction of the space they would roam in the wild and devoid of appropriate enrichment.
The men were famous for breeding white tigers, which is not a breed, but instead the result of inbreeding. White tigers are prone to birth defects, many are born cross-eyed and may have other facial deformities. Some of the cubs die at birth or are killed.
Siegfried & Roy had a longstanding relationship with Feld Entertainment, the owners of Ringling Bros. and Barnum & Bailey Circus. Feld Entertainment produced their first full-length show, and the duo sold captive-bred tigers to the company. The infamous circus shut down forever in May 2017 after years of abusing animals for entertainment.
Keeping big cats in captivity has come under increasing public scrutiny. These animals have complex physical and psychological needs and require vast amounts of land to thrive. The Big Cat Public Safety Act, recently reintroduced in the House of Representatives, aims to help end the abuse of big cats by prohibiting private possession and making it illegal for exhibitors like circuses and zoos to allow direct contact with cubs.
Join the Animal Legal Defense Fund's email list to stay up to date on lawsuits, legislation, and regulations affecting animals.
Sign Up Now
Related
Graphic images of wound are posted on Tik-Tok by an employee of Gator Park — a facility owned and operated by Jason Clay.

The lawsuit alleges federally endangered and threatened animals such as the tigers, lions, and ring-tailed lemurs are receiving inadequate care at Tiger Creek

Thanks to Animal Legal Defense Fund supporters, a tiger named Nila, two lions — Buddy and Missa, two ring-tailed lemurs, a Mikado pheasant, a military macaw, and a blue-and-gold macaw will at last have access to species-appropriate habitats and enrichment.