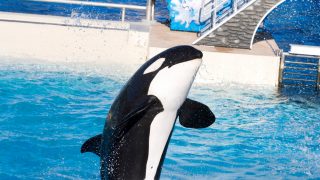 Endangered Listing Could Lead to Retirement for Lone Orca at Seaquarium
The Animal Legal Defense Fund, PETA Petition Pays Off: Lolita to Gain Protected Status Under Endangered Species Act
Contact: media@aldf.org
Miami, FL — Ten years after excluding Lolita—the lone orca at Miami Seaquarium—from the Endangered Species Act (ESA) despite covering all other Southern Resident orcas, the National Marine Fisheries Service today announced a rule granting Lolita the same status under the ESA as the rest of her family in the wild. The move comes as the result of a petition by national nonprofits Animal Legal Defense Fund, PETA, Orca Network, and others.
The listing also opens the door to further action, as the groups believe that the conditions in which Lolita is held at Miami Seaquarium—in a tank that's smaller than even the minimum standard required by federal law, without a companion of her own species for the past 35 years, and without shelter from the blazing sun—violates the ESA's prohibition on harming and harassing protected animals.
PETA plans to push for Lolita to be retired from performing and transferred to a seaside sanctuary that's waiting for her in her home waters off Washington's San Juan Islands. If possible, Lolita may even be released back into her family pod. In the wild, Southern Resident orcas often spend their entire lives with their mothers. Lolita recognized her pod's calls decades after being captured, and her mother—estimated to be about 86 years old—is still thriving.
"The Endangered Species Act should have been applied to this orca ever since it was applied to the rest of her family pod," says Animal Legal Defense Fund Executive Director Stephen Wells. "Animal Legal Defense Fund will keep working to see that she's given every protection due to her—including freedom from the appalling conditions at the Miami Seaquarium."
"This orca has been trapped for decades in the tiniest orca tank in North America and, for the past 10 years, deprived of the protection from harm and harassment offered by the Endangered Species Act," says general counsel to PETA Jeffrey Kerr. "Now that this protection is rightfully hers, PETA will continue to push for her release into the sea, where she belongs."
Related
Captured from her wild family as a juvenile, Lolita endured decades of inhumane conditions, spurring protests and numerous legal actions to help her.

Response to Announcement to Return Lolita to Puget Sound

U.S. District Court has ruled in favor of the Animal Legal Defense Fund following its lawsuit to vacate rules imposed by the U.S. Department of the Interior in 2019 under the Trump administration that weakened the Endangered Species Act (ESA).