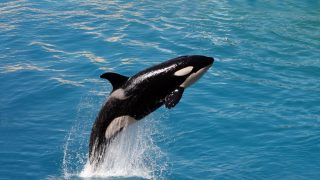 Cruelty to Endangered Orca Nets Lawsuit Against Miami Seaquarium
Animal Legal Defense Fund, PETA, and Others Allege Park Violates the Endangered Species Act
Contact: media@aldf.org
Key Biscayne, Fla. — This morning, a coalition including the Animal Legal Defense Fund (ALDF), PETA, Orca Network, and Orca Network director Howard Garrett hit the Miami Seaquarium with a lawsuit contending that the facility's imprisonment of suffering orca Lolita—currently held without the company of any others of her kind in a cramped tank with no protection from the harsh sun—constitutes a violation of the Endangered Species Act (ESA).
Under the protection of the ESA—which Lolita was granted following a successful petition from the coalition—her imprisonment and forced performances constitute an unlawful "take," meaning that she is being harmed, harassed, or wounded.
"Lolita is protected by the Endangered Species Act and deserves to live a life free of harassment, in which she can engage in natural behaviors," said Stephen Wells, Animal Legal Defense Fund executive director. "We will continue to fight to win her protections under the law."
"Decades of abuse, miserable confinement, and chronic deprivation have cost Lolita everything natural and important to her," says PETA Foundation Deputy General Counsel Delcianna Winders. "PETA is taking action now to ensure that the Miami Seaquarium is held accountable for her suffering, and we will continue to push for her relocation to a seaside sanctuary."
Since 1970, Lolita has been unable to swim more than a few yards of the 100 miles a day she might cover in the wild.
Lolita's tiny tank offers no protection from the sun—which, according to a former caretaker, has caused her skin to crack and bleed. PETA, Animal Legal Defense Fund, Orca Network, and countless concerned advocates have pushed for years for Lolita to be retired from performing and transferred to a seaside sanctuary that's waiting for her in her home waters off Washington's San Juan Islands, where she could interact with her family pod.
In the wild, Southern Resident orcas often spend their entire lives with their mothers. Lolita appeared to recognize her pod's calls decades after being captured, and the orca believed to be her mother—who's estimated to be about 86 years old—is still thriving.
Related
Captured from her wild family as a juvenile, Lolita endured decades of inhumane conditions, spurring protests and numerous legal actions to help her.

Response to Announcement to Return Lolita to Puget Sound

U.S. District Court has ruled in favor of the Animal Legal Defense Fund following its lawsuit to vacate rules imposed by the U.S. Department of the Interior in 2019 under the Trump administration that weakened the Endangered Species Act (ESA).