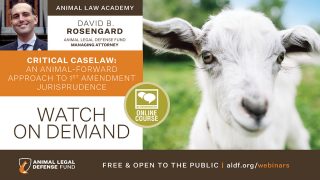 Critical Caselaw: An Animal-Forward Approach to 1st Amendment Jurisprudence
Presented 7/20/21
The art humans make and the spirituality humans practice have involved animals throughout time. As such, it is no surprise that animal cases have given rise to some of this nation's most notable 1st Amendment rulings, both for freedoms of speech and religious freedoms.
The stories these cases tell are complex, and woven throughout is an often unspoken question: how significantly do the rights of animals weigh in the arena of human constitutional rights?
Join David B. Rosengard, Animal Legal Defense Fund Managing Attorney, for an exploration of these cases and their implications through the lens of animal law. In doing so, we will discuss not only court opinions and dissents, but also examine how considering these cases in the context of animal interests challenges established readings, untangles seeming contradictions, and helps us build caselaw that is better for humans and animals alike. A brief Q&A to follow.
This webinar has been pre-recorded. Watch it now!
Resources
Join the Animal Legal Defense Fund's email list to stay up to date on lawsuits, legislation, and regulations affecting animals.
Sign Up Now
Related
Additional $20,000 reward offered for information leading to the arrest and conviction of the person or people responsible for attacking and mutilating dozens of brown pelicans on the coast of Orange County, California.

Animal Legal Defense Fund offers reward for information leading to the arrest and conviction of the person or people responsible for operating and crash-landing a drone at the Bolsa Chica Ecological Reserve in Orange County, California

Animal Legal Defense Fund increases reward offer for information leading to the arrest and conviction of the person or people responsible for attacking over 30 pelicans in Orange County, California