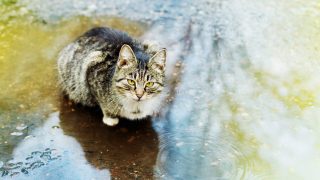 Fifth Circuit Rules that Animal Crush Video Law Prohibits Obscenity and Congress Has Significant Interest in Preventing Animal Cruelty
On June 13, the U.S. Court of Appeals for the Fifth Circuit ruled that the "Animal Crush Video Prohibition Act of 2010" ("the Act") is Constitutional on its face because it prohibits "obscenity" not protected by the First Amendment, and that Congress has a "significant interest" in preventing the violence and criminal activity that these heinous videos necessitate.
The Fifth Circuit reversed and remanded a 2013 ruling by the U.S. District Court in the Southern District of Texas, which had held that animal crush videos are not obscene and that the Act violated defendants' First Amendment rights. In 2012, defendants Ashley Nicole Richards and Brent Justice were arrested in Houston and charged with violating the Act for producing and selling obscene videos of Richards torturing dogs, cats, and other animals for the sexual gratification of viewers.
The Fifth Circuit agreed with the Animal Legal Defense Fund that the district court should have applied the Supreme Court's three-part test for obscenity established in the case of Miller v. California, rather than relying on the "variable and debatable" legislative history of the Act. Animal Legal Defense Fund filed its amicus brief, along with the Association of Prosecuting Attorneys, in August 2013.
In the 2010 case of U.S. v. Stevens, the U.S. Supreme Court had ruled that an earlier version of the Act from 1999 was unconstitutional; Congress swiftly and nearly unanimously passed an amended version of the Act in 2010. Today, the Fifth Circuit ruled that this second and current version of the Act is Constitutional on its face because it serves the "significant interest" of preventing the violence to animals promoted and required by such videos, and was "reasonably tailored" to meet that interest, in part because the Act now exempts lawful activities like hunting, normal veterinary practices, and customary agricultural practices.
Significantly for victim animals, the Fifth Circuit looked to the "long history and substantial consensus" of animal cruelty laws in this country, emphasizing that animal cruelty "is so antisocial that it has been made criminal" in every state. As a practical matter, the Court also acknowledged that because of the "clandestine manner in which animal crush videos are made," it is difficult for state law enforcement to target the underlying cruelty that these videos depict—furthering the need for the Act.
Animal Legal Defense Fund applauds the Fifth Circuit for this landmark ruling that acknowledges Congress's compelling interest in combating the egregious animal cruelty inherent in animal crush videos.
Related
Alternative sentencing program in Fulton County, Georgia pairs shelter dogs with criminal defendants to offer both training and a second chance

Actress Christian Serratos narrates the Animal Legal Defense Fund film advocating for an end to puppy mills

Predatory financing law bans loans that often trap borrowers with high interest rates