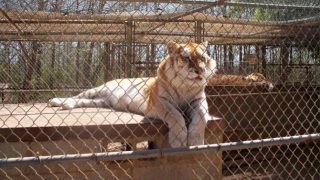 Court Allows Lawsuit Against Tiger Creek Animal Sanctuary to Proceed
First ruling pertaining to recently enacted Big Cat Public Safety Act
Contact: media@aldf.org
DALLAS — The U.S. District Court for the Eastern District of Texas ruled in favor of the Animal Legal Defense Fund, denying another attempt by Tiger Creek Animal Sanctuary to dismiss allegations that the facility injures and kills lions, tigers, and other animals in violation of the Endangered Species Act (ESA). The court rejected Tiger Creek's argument that the Big Cat Public Safety Act — a new federal law that governs the possession of certain animals — strips Tiger Creek's lions and tigers of the protections they receive under the ESA, a different federal law that makes it unlawful for those animals to be injured or killed.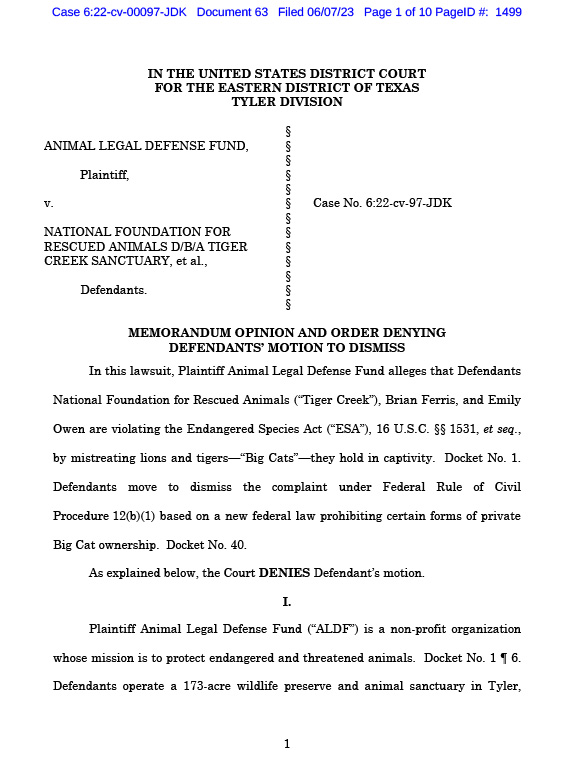 Memorandum Opinion and Order Denying Defendants' Motion to Dismiss
ALDF v. National Foundation for Rescued Animals
The lawsuit was originally filed by the Animal Legal Defense Fund in March 2022 against Tiger Creek, as well as its founder and former director, Brian Werner Ferris, and his daughter, Chairman and Executive Director, Emily Owen, for violating the ESA's "take" and "transfer" provisions by harming, harassing, and killing numerous animals — including nine lions and tigers who have died there since 2018 — and by transferring members of endangered and threatened species across state lines without the necessary permits.
The court's decision marks the first time that a federal court has been asked to examine the coverage of the Big Cat Public Safety Act, which was signed into law in December 2022, as well as its interplay with other animal protection laws. The court found that while the Big Cat Public Safety Act "regulates who may lawfully own Big Cats," the ESA "governs how Big Cats (and all endangered species) must be treated," meaning that the Big Cat Public Safety Act provides "separate and heightened protections" for those animals.
"The court's decision against Tiger Creek Animal Sanctuary affirms how the Big Cat Public Safety Act — a critical law to protect big cats across the country — works alongside existing laws to strengthen them, such as the Endangered Species Act and Animal Welfare Act, without legally impeding their enforcement," says Animal Legal Defense Fund Managing Attorney Daniel Waltz.
In the lawsuit, the Animal Legal Defense Fund alleges that extensive photographic and video evidence, first-hand observations, and government analyses — including an official warning issued by the U.S. Department of Agriculture (USDA) — indicate that animals at Tiger Creek Animal Sanctuary are mentally and physically suffering.
This is the first ruling issued related to the Big Cat Public Safety Act since its enactment on December 20, 2022. On June 9, 2023, the Department of Interior's Fish and Wildlife Service issued its first regulations pertaining to the Big Cat Public Safety Act that will facilitate the enforcement of the law.
To learn more about the case, visit aldf.org/tigercreek.
Related
The gift of more than $1 million will fund the program over the next four years

This action is for U.S. residents only.

The victory follows the passage of a factory farming law and efforts to curtail the construction of new mega dairies in the state