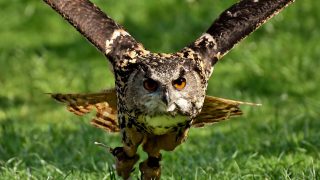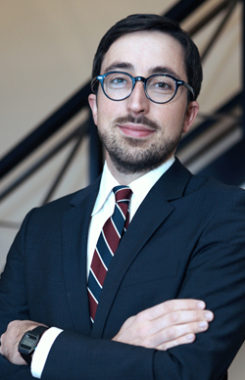 Attorney Christopher Wlach is an outstanding legal advocate for animals—human, and nonhuman. Chris has dedicated his invaluable legal expertise to ALDF in our ongoing campaign to ban the horse-drawn carriage industry in New York City. He is currently an associate in the New York office of the legal firm Arnold & Porter, where he works in complex commercial litigation and domestic arbitration—and recently successfully represented a Fortune 500 company in a multibillion dollar arbitration. On top of this caseload, Chris has donated his legal services as an advisor for animal protection organizations, academic institutions, and even helped obtain payments for Holocaust survivors.
After working in the legal department of a major record label, he attended law school at Columbia University, where he was a Harlan Fiske Stone Scholar and a staff member of the Columbia Science and Technology Law Review. At Columbia, he signed up for an animal law course that changed the way he viewed nonhuman animals. The animal law course made him realize "I didn't need to be an 'animal person' to feel very strongly that animals should not be killed, tortured, or used as objects."
Chris was so inspired that he joined the New York City Bar Association's Animal Law Committee. That led to teaming up with ALDF in a successful lawsuit that sought public documents from the NYPD about the dangerous horse-drawn carriage industry. In April 2014, the New York Supreme Court sided with ALDF, and the NYPD was ordered to turn over documents under the state's Freedom of Information Law (FOIL).
This lawsuit, Chris says, "serves as a reminder that 'freedom of information' laws are an important legal tool for protecting animals." Laws like the federal Freedom of Information Act and New York's FOIL are about open government and the public's right to access the records of government. Chris explains that "right to access records is also a right to know how laws protecting carriage horses are being enforced—whether they are being enforced at all… there are very few other ways for a concerned person or organization like ALDF to get this kind of information." As he noted in an interview with CBS news, "the health and safety of carriage horses are seriously at risk, but this is also just about our right as citizens to get documents."
"Thanks to the diligent and keen legal advice Chris provided, ALDF was able to secure an important victory for the safety of New York's carriage horses and for transparency in government oversight," says Jeff Pierce, ALDF attorney. "His assistance was fundamental to our victory."
Chris hopes more young attorneys will consider animal law in their pro bono docket. This type of work, he says, helps attorneys develop advanced legal skills and experience early in their careers; it also "lets you pursue areas of interest you might otherwise not be able to pursue in your regular practice–and for causes and clients that are important to you."
A lifelong New Yorker, Chris lives with his wife in Brooklyn.
The Animal Legal Defense Fund would never be able to use the law to advance the interests of animals without the pro bono support of legal professionals nationwide. In this continuing series of spotlights, ALDF salutes attorney Chris Wlach.
Related
These controversial experiments terrorize baby monkeys by exposing them to stressors like snakes and threatening human strangers.

Residents of Cook County: Take action now to urge the County Board of Commissioners to uphold its duty to the public and release the full report immediately.

Standing for Government Transparency and Animal Protection