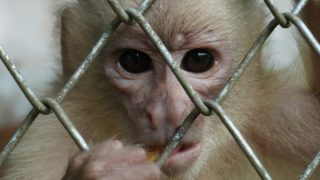 The Animal Legal Defense Fund Files First Brief in "MonkeyGate" Appeal
Standing for Government Transparency and Animal Protection
The Animal Legal Defense Fund has filed its initial appellate brief with the Florida Second District Court of Appeal in its appeal of the July 2016 ruling in the "MonkeyGate" case. The brief is the latest development in the Animal Legal Defense Fund's multi-year campaign to void the decision to approve two new primate breeding facilities in Hendry County, Florida. The lawsuit, filed on behalf of local landowners, alleges that Hendry County illegally approved site development plans for the SoFlo Ag and Panther Tracts primate facilities in violation of the state's Sunshine Law.
The county approved these facilities in closed-door conferences without public notice or public meetings. The crux of the lawsuit alleges that Hendry County staff engaged in policy-based decision-making, which is subject to the Sunshine Law, by classifying these primate breeding facilities as "animal husbandry" for agricultural zoning purposes. However, the definition of "animal husbandry" only includes domestic animals like pigs and chickens, not wild and exotic primates bred and used as test subjects in biomedical research. As such, the approval of the primate breeding facilities in agriculture zoning amounts to rewriting the zoning code, which is exactly the type of policy-based decision-making that requires a public hearing with reasonable public notice under the Sunshine Law.
The Hendry County primate facilities house thousands of long-tailed macaques and other primates for breeding and sale to biomedical research companies. Some primate breeding facilities in Hendry County have been the subject of investigations revealing horrific conditions and cruelty. It's reasonable to expect macaques at the new facilities would be subject to similar abuse. Long-tailed macaques are inquisitive and intelligent animals who live in social groups. They've even been seen using stone tools to prepare their food—like cracking open oysters and sea snails. They have been the victims of the animal testing industry for decades.
The SoFlo Ag facility is only a few hundred feet away from residential areas, posing a risk to both property values and residents' enjoyment of their property. Additionally, macaques can transmit deadly infections to humans, meaning their presence in Florida threatens human health and safety. Considering all these factors and the requirements of the Sunshine Law, the Animal Legal Defense Fund believes that the public has the right to participate in the decision whether to build these facilities in the community.
Citizens must be given a chance to be heard when the government makes decisions that will affect their homes and day-to-day lives. Hendry County's disregard of the Sunshine Law in approving these primate breeding facilities should not be tolerated.
Related
The Animal Legal Defense Fund filed a lawsuit on behalf of Madeline Krasno, a former employee of one of the University of Wisconsin-Madison's controversial primate research labs, who has been prevented from posting truthful comments on the university's otherwise public Instagram and Facebook posts.

Three baboons and two macaques removed from Cricket Hollow Zoo are transferred to primate sanctuary, following Animal Legal Defense Fund lawsuit

These controversial experiments terrorize baby monkeys by exposing them to stressors like snakes and threatening human strangers.