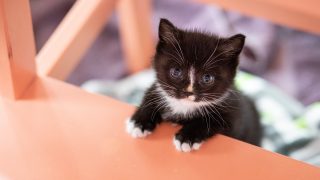 California: Help Ban Cat Declawing Statewide!
This action is for California residents only.
California could become the next state to ban cat declawing, a permanent surgical procedure in which all or part of the last bone in a cat's toes is amputated. This major operation can cause post-surgical pain and lifelong medical implications, and prevents a cat from performing natural behaviors.
New York and Maryland already have statewide cat declawing bans, and many major cities — including Los Angeles, San Francisco, Pittsburgh, Madison, Austin, Denver, and Berkeley — have similar ordinances.
Help protect cats by urging your state senator to support California's cat declawing ban, AB 2606!
Join the Animal Legal Defense Fund's email list to stay up to date on lawsuits, legislation, and regulations affecting animals.
Sign Up Now
Related
Huston narrates the Animal Legal Defense Fund film demonstrating the impact legal advocates can have on behalf of animal cruelty victims

A Courtroom Animal Advocate Program (CAAP) bill, S.2868/A.4533, which would allow law students and volunteer lawyers to advocate for animal victims in cruelty criminal cases, unanimously passed the New Jersey Senate. The bill is sponsored by Senator Nicholas Scutari and Assemblyman Raj Mukherji and endorsed by the Animal Legal Defense Fund.

Breeding operation, Adorable Stars, sells parasite-ridden kittens suffering from severe and fatal ailments