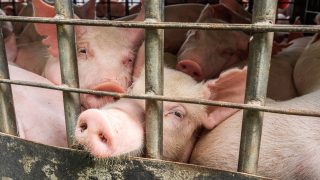 Appeals Court Sends Hormel "Natural Choice" Deceptive Advertising Case to Trial
D.C. Court of Appeals rules Animal Legal Defense Fund can pursue its claims
Contact: media@aldf.org
WASHINGTON — Today, the District of Columbia Court of Appeals issued a decision reviving the Animal Legal Defense Fund's case against Hormel Foods' "Natural Choice" advertising, and sending the matter to trial. The appeals court reversed a lower court's ruling, finding that the Animal Legal Defense Fund has standing to pursue its false advertising claims against Hormel Foods, and that those claims are not displaced by federal animal products labeling laws. The lawsuit, filed in June 2016 together with Public Justice and the Richman Law Group, alleges Hormel is misleading consumers through the advertising of its Natural Choice brand of lunch meats and bacon, in violation of the D.C. Consumer Protection Procedures Act (DCCPPA).
Hormel advertises these products as natural despite the animals being raised in factory farms, never seeing the light of day, being given unnecessary antibiotics and other chemicals, and being abused, a 2019 Bloomberg report revealed.
In a watershed ruling for consumer protection of all types, the Court ruled for the first time that the DCCPPA allows qualifying nonprofit organizations to sue to enforce the DCCPPA without having to demonstrate federal-court standing. Especially given the ever narrowing standard for federal standing, this decision is an important win for consumers — it keeps the doors of D.C. courthouses open for consumer claims.
Second, the Court also ruled that the Animal Legal Defense Fund's claims are not preempted by federal meat and poultry labeling laws, because the federal laws address only labeling. The Court held that the Animal Legal Defense Fund's DCCPPA claims that Hormel's advertising is misleading are not impacted by federal meat labeling laws.
"Today's decision proves our lawsuit has the legal ground to proceed, and we look forward to continuing our case against Hormel," says Animal Legal Defense Fund Executive Director Stephen Wells. "Consumers deserve transparency into industrial animal agriculture, and our lawsuit aims to ensure the public is not being misled by humane-washing when making choices about food."
"Today's ruling not only affirms that this lawsuit to stop egregious false advertising by Hormel can continue, it will benefit consumers and the integrity of the market on a wide range of issues," Public Justice Senior Attorney Leah Nicholls, counsel for the Animal Legal Defense Fund in the case, said. "The D.C. Court of Appeals rightly notes that any qualifying advocacy nonprofit can use the district's consumer protection statutes to stop misleading advertising campaigns on behalf of the District's citizens, even if the content of a product's label is judged to be preempted by federal regulation."
The 2016 lawsuit was filed following an Animal Legal Defense Fund undercover investigation revealing significant animal neglect and violations of laws protecting both consumers and animals at a Nebraska-based factory farm owned by The Maschhoffs, LLC, a major Illinois-based pig producer and one of Hormel Foods' largest suppliers.
Join the Animal Legal Defense Fund's email list to stay up to date on lawsuits, legislation, and regulations affecting animals.
Sign Up Now
Related
The U.S. Court of Appeals for the Fourth Circuit handed an important win to plaintiffs in a lawsuit challenging North Carolina's Ag-Gag law, ruling that undercover investigations and whistleblowing are considered newsgathering activities protected by the First Amendment.

Public interest coalition celebrates another win against unconstitutional statute barring undercover investigations at factory farms

Edie Falco narrates the Animal Legal Defense Fund film demanding transparency in factory farming