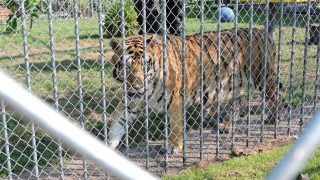 Animal Legal Defense Fund's Legal Battle to Free Tony the Tiger Moves Forward
Petition Filed to Intervene in Tony the Truck Stop Tiger Lawsuit
Contact: media@aldf.org
BATON ROUGE, La. – This week, the Animal Legal Defense Fund filed an amended petition to intervene in an ongoing lawsuit against the state of Louisiana, as part of its campaign to free Tony, a Siberian-Bengal tiger held in a cage at Gross Tete's Tiger Truck Stop. Michael Sandlin, the owner of the Tiger Truck Stop, keeps 16-year-old Tony in his gas station parking lot, amidst diesel fumes and the roar of the adjacent highway. The amended intervention petition is the latest step in the Animal Legal Defense Fund's years-long battle to have Tony moved to a reputable sanctuary.
Sandlin has been able to maintain captivity of Tony despite a state law banning private possession of big cats, because Sandlin successfully lobbied Louisiana to pass Act 697, a law exempting Sandlin – and only Sandlin – from the big cat ban. The Animal Legal Defense Fund argues that this "one man exemption" violates the state constitution, which prohibits "special laws" designed to benefit a specific private individual or interest. The law firms Jones Walker, Proskauer Rose, and Baker Donelson are providing pro bono representation in the case.
"We have worked continuously to free Tony the Truck Stop Tiger for almost six years," says Animal Legal Defense Fund Executive Director Stephen Wells. "We will continue to work on his behalf until he is relocated to a sanctuary equipped to meet his psychological and physical needs."
Former Representative Warren Triche Jr. championed the 2006 ban on private possession of big, exotic cats. He was inspired, in part, to introduce the legislation by the reprehensible conditions that Tony is forced to endure. Former Representative Triche is now joining with the Animal Legal Defense Fund in the amended petition to challenge Act 697 and restore the purpose of the original 2006 ban.
In August 2011, the Animal Legal Defense Fund sued the Louisiana Department of Wildlife and Fisheries after it unlawfully granted Sandlin an exhibition permit for Tony. The court ruled in the Animal Legal Defense Fund's favor and ordered the department to revoke Sandlin's permit. The Louisiana Court of Appeals upheld the ruling in 2013, but Tony remains in captivity at the Tiger Truck Stop because of Act 697.
For more information visit, aldf.org.
Related
The bill helps end the rampant abuse of tigers and other big cats in captivity by banning private possession

Graphic images of wound are posted on Tik-Tok by an employee of Gator Park — a facility owned and operated by Jason Clay.

The lawsuit alleges federally endangered and threatened animals such as the tigers, lions, and ring-tailed lemurs are receiving inadequate care at Tiger Creek