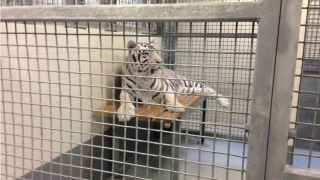 Animal Legal Defense Fund Wins Major Free Speech Victory as Judge Dismisses Baseless Defamation Suit Aimed at Silencing Critics of Inhumane Tiger Exhibit
National nonprofit questions the conditions of four endangered white tigers
Contact: media@aldf.org
Houston, TX – A Harris County judge issued a court order granting the Animal Legal Defense Fund's anti-SLAPP motion and dismissing a baseless lawsuit filed by Landry's Inc. and the Downtown Aquarium Inc., which claimed the animal protection organization defamed Landry's restaurant by publicly commenting on the long-controversial mistreatment of four white tigers.
The tigers—Nero, Marina, Coral and Reef—have been housed indoors at the Downtown Aquarium and restaurant for 12 years without adequate access to sunlight, fresh air or natural surfaces.
The motion granted today was filed by Adam Milasincic of the Houston law firm Ahmad, Zavitsanos, Anaipakos Alavi & Mensing P.C., and Mahendru PC under the Texas Anti-SLAPP (Strategic Lawsuits Against Public Participation) statute. This law allows judges to dismiss meritless lawsuits filed against those who speak out about a "matter of public concern."
The judge also awarded over $170,000 in attorneys' fees and $450,000 in sanctions against Landry's in order to discourage the filing of future SLAPP suits designed to suppress free speech.
"Dismissing this defamation suit is a victory for free speech," says Animal Legal Defense Fund Executive Director Stephen Wells. "The anti-SLAPP law in Texas is a valuable way to shut down these baseless lawsuits, which are often used in an attempt to intimidate and silence advocates. Our primary concern is the health and well-being of the tigers—and we will not be deterred."
The Animal Legal Defense Fund announced its concerns about the four tigers in September when it delivered a 60-day notice of intent to sue—as required by the federal Endangered Species Act (ESA) — on behalf of Cheryl Conley, a Montgomery County woman who witnessed Landry's holding the tigers in deplorable, small cages.
Before the 60-day-notice period expired, Landry's pre-empted the organization and Ms. Conley by suing for defamation. Now that Landry's SLAPP suit has been dismissed, the Animal Legal Defense Fund and Ms. Conley intend to move forward with their lawsuit under the Endangered Species Act.
Related
The bill helps end the rampant abuse of tigers and other big cats in captivity by banning private possession

U.S. District Court has ruled in favor of the Animal Legal Defense Fund following its lawsuit to vacate rules imposed by the U.S. Department of the Interior in 2019 under the Trump administration that weakened the Endangered Species Act (ESA).

Reward for information leading to the arrest and conviction of the person or people responsible for illegally shooting and killing a red wolf in Tyrrell County, North Carolina.