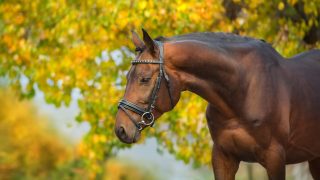 Contact: media@aldf.org
PALMETTO, Fla. – The Animal Legal Defense Fund, the nation's preeminent legal advocacy organization for animals, is offering a $5,000 reward for information leading to the arrest and conviction of the person or people responsible for stealing and butchering a horse in Manatee County, Florida.
Officials say the horse — whose name has not been publicly released — was stolen and killed sometime between 11:34 p.m. on Dec. 1 and midnight on Dec. 2. The horse was led from the stable where he was kept at the 5800 block of Buckeye Road in Palmetto. He was discovered dead in a nearby field, during a search. The Manatee County Sheriff's Office said in a statement it was apparent the horse had been slaughtered for meat.
Police have released surveillance video of an unidentified man seen walking up to the stables from which the horse was stolen, around 11:34 p.m. on Dec. 1. The man in the video is considered a person of interest by law enforcement officials. The video can be viewed on the Manatee County Sheriff's Office Facebook page: https://www.facebook.com/watch/?v=444953169484514
Officials are investigating a possible connection between this killing, and a 2015 incident which took place about two miles away — when another horse was stolen from Centennial Equestrian Farm, and also butchered for meat.
"Horses are highly intelligent animals who feel pain just like we do. This is a very serious crime, all the more urgent because it seems to be part of a pattern of cruelty," says Animal Legal Defense Fund Executive Director Stephen Wells. "We commend the Manatee County Sheriff's Office for their efforts to get justice in this case and urge anyone with information about this crime to come forward."
In Florida, it is a second-degree felony to willfully kill a horse. The maximum penalty is up to fifteen years imprisonment or a $10,000 fine, or both.
If you have information related to this incident, please contact the Manatee County Sheriff's Office at 941-747-3011 or Crime Stoppers at 866-634-TIPS.
Related
Reward for information leading to the arrest and conviction of the person or people responsible for the horses' deaths in Floyd County, Kentucky

Animal Legal Defense Fund seeks to hold California Equine Retirement Foundation responsible for mistreatment of horses

On an early August morning, 34 horses seized from a scene of severe neglect began their 107th day in state custody. Horse rescue volunteers had nursed the horses back to health, and ready to be adopted. But the horses needed one more thing...
Help animals win the legal protections they so desperately need and deserve, and ensure they have an advocate in courtrooms and legislatures across the country.
Take Action Now