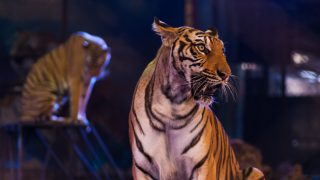 Animal Legal Defense Fund Objects to Export of Former Ringling Circus Tigers
The Animal Legal Defense Fund strongly opposes Ringling's effort to condemn tigers to continued exploitation for "entertainment."
Contact: media@aldf.org
Today, the U. S. Fish and Wildlife Service pre-published notice that Feld Entertainment, the multi-billion dollar parent corporation of the recently shuttered Ringling Bros. Circus, is applying for an Endangered Species Act permit to export eight tigers back to a circus in Germany.
The Animal Legal Defense Fund strongly opposes Ringling's effort to condemn these tigers to continued exploitation for "entertainment" when there are humane options for the endangered animals. The Animal Legal Defense Fund is the nation's preeminent legal advocacy organization for animals and plans to file administrative comments to oppose the export permit.
Proper issuance of such a permit requires a demonstration by the applicant that the underlying activity for which the permit is being sought "enhance[s] the propagation or survival of the species."
The U.S. Fish and Wildlife Service has historically taken a controversial "pay-to-play" approach to the enhancement requirement, often rubber-stamping permits for objectionable uses of endangered species so long as the applicant makes a nominal donation to a conservation program.
It is well-established that use of tigers in circuses fails to educate the public and has no nexus to legitimate species conservation. In fact, many experts opine that the use of exotic animals for entertainment acts and other traveling shows is harmful to their wild counterparts.
"The curtain has come down on Ringling Bros. and an enlightened public is turning away from the outdated notion that it's acceptable to use endangered species as entertainment props," says Animal Legal Defense Fund Executive Director Stephen Wells. "After spending years being carted around in cramped transport cages for 50 weeks of the year, it's time for Ringling and trainer Alexander Lacey to let these tigers live out their lives at a reputable sanctuary where they can experience the space, habitats and peace they need and deserve."
Related
The bill helps end the rampant abuse of tigers and other big cats in captivity by banning private possession

U.S. District Court has ruled in favor of the Animal Legal Defense Fund following its lawsuit to vacate rules imposed by the U.S. Department of the Interior in 2019 under the Trump administration that weakened the Endangered Species Act (ESA).

Reward for information leading to the arrest and conviction of the person or people responsible for illegally shooting and killing a red wolf in Tyrrell County, North Carolina.