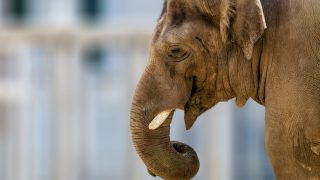 Animal Legal Defense Fund Files Brief In Legal Appeal Against L.A. Zoo's Controversial Elephant Exhibit
Trial Court Agrees Exhibit Causes Suffering; Animal Legal Defense Fund Asks Court of Appeal to Send Elephants to Sanctuary
Contact: media@aldf.org
Los Angeles, CA — The national nonprofit Animal Legal Defense Fund filed a "friend of the court" brief in support of a lawsuit that seeks to end the years-long suffering of three elephants at the Los Angeles Zoo and the use of taxpayer resources to support the Zoo's abusive elephant exhibit.
Elephants Billy, Tina, and Jewel are held captive at the Los Angeles Zoo's controversial "Elephants of Asia" exhibit, which has received intense public scrutiny. Although the City Council's response has been to use more taxpayer resources (to the tune of $42 million) to expand the exhibit, animal advocates have called for the closure of the inherently problematic exhibit—a solution promoted by celebrities like Bob Barker, Lily Tomlin, Cher, and Kevin Nealon.
Animal Legal Defense Fund's brief was filed in the California Court of Appeal, Second District, in support of plaintiff Aaron Leider's appeal.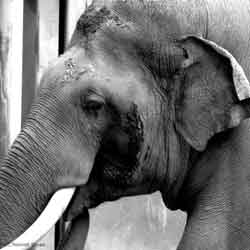 In its July 2012 decision, a trial court concluded that "all is not well at the Elephants of Asia exhibit at the Los Angeles Zoo." That court found that the elephants experience pronounced isolation, boredom, and frustration in a barren environment, and, as a result, exhibit severe stereotypical behaviors of stress and psychological disturbance, such as bobbing and swaying for hours on end.
The elephants also suffer from chronic foot and joint problems from standing for years on concrete-hard, compacted dirt, with little to no opportunity for exercise on a soft surface. As the trial court noted, "captivity is a terrible existence for any intelligent, self-aware species, which the undisputed evidence shows elephants are."
And yet, the trial court failed to apply the language of animal cruelty statutes to these facts and thereby failed to provide these animals with adequate relief.
Animal Legal Defense Fund's brief calls on the Court of Appeal to apply proper legal standards to the lower court's findings about Billy, Tina, and Jewel's suffering.
Animal Legal Defense Fund argues that the limited interpretation of the animal cruelty statute will decrease protections for all animals and improperly raise the bar for proving animal cruelty in California. In addition, Animal Legal Defense Fund's brief opposes the City's attempt to prevent concerned taxpayers from filing lawsuits on behalf of suffering animals. In the lawsuit, the plaintiff is asking that the abusive elephant exhibit be closed. Animal Legal Defense Fund hopes the animals will be sent to a reputable sanctuary, where they can live their lives in peace and comfort.
"The courts have agreed that these elephants are suffering immensely to entertain visitors to the Los Angeles Zoo," said Stephen Wells, executive director for the Animal Legal Defense Fund. "The government-sponsored, taxpayer-funded animal cruelty inflicted on Billy, Tina, and Jewel is illegal, and we expect the appellate court will honor these facts."
Related
Animal Legal Defense Fund letter asks Puerto Rico governor to investigate illegal treatment of endangered species and other animals at Dr. Juan A. Rivero National Zoological Park

The Animal Legal Defense Fund is deeply saddened by the death of elephants Beulah and Karen and is committed to supporting legislation pending in Massachusetts to prohibit the use of elephants and certain other wild animals used in circuses.

Dr. Juan A. Rivero National Zoological Park has been illegally operating without federal license for more than a year.