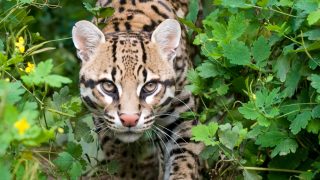 Animal Legal Defense Fund Disappointed in U.S. Supreme Court's Refusal to Hear Border Wall Case
Legal group pledges to continue to purse related lawsuits
The Animal Legal Defense Fund is disappointed that the U.S. Supreme Court has decided not to weigh in at this time on the important constitutional issues raised by our lawsuits challenging the waiver of dozens of environmental, health and safety laws related to construction of a U.S. – Mexico border wall in parts of California, Texas, and New Mexico. Construction will impact thousands of animals, including dozens of endangered and threatened species.
The Animal Legal Defense Fund joined a coalition of public interest groups to sue to prevent the use of the waivers. Their use to prevent proper oversight of such a massive project which poses a threat to wildlife, the environment, and public health and safety, is both reckless and illegal.
The wall will harm dozens of endangered and threatened species, including the jaguar, Mexican gray wolf, ocelot, sonoran pronghorn, the Mexican spotted owl, Quino checkerspot butterfly, and the California gnatcatcher. Some of these species, such as the jaguar, were just starting to come back from the brink of extinction, and the border wall might jeopardize that recovery and cause their extinction.
Despite the Supreme Court's decision, our fight to protect the animals living along the border will continue on several other fronts with ongoing federal litigation in the U.S. District Court for the District of Columbia where we are suing over waivers issued for projects in Texas and New Mexico, and our appeal in the U.S. Court of Appeals for the Ninth Circuit regarding the California waivers.
We look forward to demonstrating to these courts that the waivers of environmental and animal protection laws, among others, violate the U.S. Constitution and federal law, and that the waivers are therefore invalid.
"This border wall is an illegal attempt to avoid public scrutiny of a massive taxpayer-funded project," says Animal Legal Defense Fund Executive Director Stephen Wells.
"Many species of animals, including endangered species, are put at risk by the construction of such a massive wall. Despite the Supreme Court's decision not to hear our case, we will keep fighting so that these animals are protected, and the law is upheld."
Related
Animal Legal Defense Fund lawsuit charges Special Memories Zoo with illegally mistreating lions, tigers, gray wolves, and other animals

Endangered animals including lions, tigers, and gray wolves suffer in squalid conditions at Special Memories Zoo.

Today the U.S. District Court for the District of Minnesota issued a critical ruling in favor of wolves' legal protection — determining that gray wolves are not excluded from the Endangered Species Act even if they have some detectable dog genes.