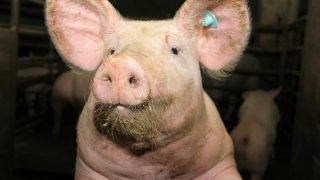 Animal Legal Defense Fund Calls for Investigation of Animal Cruelty in Taxpayer-Funded Experiments
Animal Legal Defense Fund Urges Office of Inspector General to Review Meat Animal Research Center Tests
Contact: media@aldf.org
San Francisco, CA – Today, the national nonprofit Animal Legal Defense Fund sent a formal letter to the USDA Office of Inspector General (OIG) asking for an investigation into the USDA Meat Animal Research Center's animal cruelty, exposed by a January 19th New York Times article.
After public outcry, Tom Vilsack, Secretary of Agriculture, ordered an internal review of the Nebraska-based facility, which tests on thousands of cows, pigs, and sheep, and is overseen by the USDA's Agricultural Research Service. But Animal Legal Defense Fund's letter calls for action by the Office of the Inspector General—an independent agency authorized to investigate problems and offer its own recommendations. Today's letter asks the OIG to recommend policy changes to end the misuse of taxpayer dollars that funds cruel and wasteful experiments.
For decades, the Meat Animal Research Center has failed to meet even minimal standards of animal welfare. According to the Times, the taxpayer-funded experiments include allowing lambs to die of exposure and starvation after being abandoned by their mothers, and housing animals in overcrowded and unsanitary conditions. Thousands have died from starvation. Hundreds of cows have died from mastitis, a highly painful but easily treatable udder infection.
Even the meat industry has balked at these experiments, given the severity of animal suffering. An Institutional Animal Care and Use Committee (IACUC) is required to oversee protocols for testing facilities and ensure experiments minimize pain and alternatives are employed where possible. However, MARC's committee has greenlighted shockingly cruel tests that few other facilities would ever permit.
Rep. Louise Slaughter (D-NY) is co-sponsoring a bill known as the Animal Welfare in Agricultural Research Endeavors Act (AWARE), that would limit an arbitrary exemption for animals used for agricultural research at federal facilities from the protections of the Animal Welfare Act.
"These horrifically cruel experiments make use of loopholes in animal protection laws to increase the industry's bottom line," said Stephen Wells, executive director of the Animal Legal Defense Fund. "We ask the Office of Inspector General to investigate this abuse of taxpayer dollars and cruelty to animals."
Related
Animal Legal Defense Fund petition for rulemaking spurs reporting improvements: Forms will be revised to ensure AWA licensees maintain complete records of all animal deaths.

Graphic images of wound are posted on Tik-Tok by an employee of Gator Park — a facility owned and operated by Jason Clay.

The lawsuit alleges federally endangered and threatened animals such as the tigers, lions, and ring-tailed lemurs are receiving inadequate care at Tiger Creek