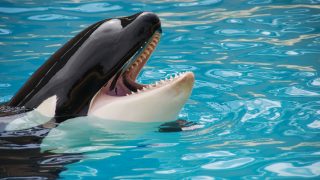 Animal Legal Defense Fund and Sea Shepherd Conservation Society File Motion to Intervene in SeaWorld v. Calif. Coastal Commission Lawsuit
Organizations determined to prevent more orcas from suffering in captivity
Contact: Natalia Lima, nlima@aldf.org, 201 679 7088
San Diego, CA – Today, the Animal Legal Defense Fund, the nation's premier legal advocacy organization for animals, together with Sea Shepherd Conservation Society (SSCS), the foremost international marine wildlife conservation organization, filed a motion to intervene in the SeaWorld v. California Coastal Commission lawsuit in the California Superior Court in San Diego.
The organizations seek to help uphold the conditions that the Commission imposed on SeaWorld San Diego's coastal development permit on October 8, 2015. The permit conditions, which restrict breeding and transfer of orcas by Sea World, effectively require the amusement park to phase out its captive orca program if it chooses to go forward with plans to expand its facility.
On December 30, 2015, SeaWorld filed a lawsuit against the California Coastal Commission challenging the Commission's decision to condition approval of SeaWorld San Diego's permit to modify its orca exhibit upon an express prohibition on the use of the modified tanks for any orcas other than the eleven specific orcas already housed at SeaWorld San Diego.
Indeed, by prohibiting captive breeding, wild capture, transfers, or other replacement of orcas, the permit conditions ensure that SeaWorld San Diego's captive orca program will come to an end if Sea World begins work under the permit.
Animal Legal Defense Fund, who originally proposed those permit conditions with a coalition of other organizations, and SSCS are seeking permission from the court to join the lawsuit as third party defendants to ensure that the permit conditions remain in place.
"The California Coastal Commission has the authority and the duty to conserve marine resources, including captive orcas," said Stephen Wells, executive director of the Animal Legal Defense Fund. "The Commission's decision was informed by detailed analysis of its obligations under the California Coastal Act and extensive input from internationally renowned cetacean experts about the negative impact of captivity on orcas. As an organization that proposed the permit conditions, Animal Legal Defense Fund has a vested interest in making sure those conditions are upheld in court."
Commenting on the Commission's decision, Sea Shepherd founder, Captain Paul Watson, stated: "Though the permit was not denied, it was still a win for the whales as the Commission may have forced SeaWorld to begin to make significant changes to the way it operates, and sent a strong message that the public is only interested in an endeavor that will truly benefit the whales and not SeaWorld's profits."
Related
Tell the Florida Fish and Wildlife Conservation Commission that you care about protecting captive orcas!

This year's Florida legislative session promises to be one of the busiest yet for animals. The Animal Legal Defense Fund is in the halls of the legislature every day – advocating for animals who would otherwise not have a voice.

Florida: Urge lawmakers to support legislation that would end the use of orcas for entertainment purposes, ensuring that those orcas already held in captivity would only be displayed for truly educational purposes, while prohibiting any future breeding.