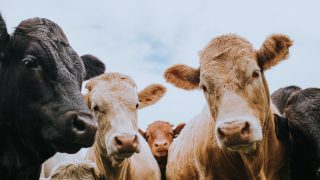 Animal Law Student Scholars' Workshop
The Animal Law Student Scholars' Workshop is a year-long project that will engage law students in using scholarship to develop innovative legal solutions to address animal protection problems. Workshop participants will partner with animal law and legal writing faculty to explore an issue then write, publish, and present a substantial piece of scholarship, receiving expert coaching and advice throughout the project. Participation will be limited to allow cohorts of participants to receive individualized advice from project faculty.
2021-2022 Issue
Climate disasters are on the rise across the country and animals are often left with virtually no protections or plans in place to get them to safety. Many of us have seen news footage of pigs attempting to escape from flood waters in several states, stranded atop the very cages that kept them confined hours before; tornados and earthquakes hitting so quickly that farmed animals, wildlife, and companion animals often attempt to flee through nothing more than an opening in a fence. In addition, many states are now facing unprecedented droughts and extreme heat, yet law and policy are not changing with the climate.
Participants in this workshop will research and write publishable papers that illustrate, explore, or expand on issues and potential solutions regarding the limited legal protections available for farmed animals in natural and weather-related disasters. While all nonhuman animals are susceptible to pain, suffering, and neglect due to natural disasters, the focus of this year's workshop is on farmed animals. We define farmed animals as animals raised for meat, dairy, or eggs. Participants may write about a topic of their choice related to the intersection of farmed animals, natural disasters, and animal protection or welfare. Possible topics include, but are not limited to:
Current and proposed farm requirements for protecting animals during inclement weather.
Insurance policies requiring mitigating efforts to limit the number of lives lost, such as through disaster planning.
Executive order to protect animal health during natural emergencies.
Inclusions and exclusions to federal bailouts.
Required equipment and processes, such as having high speed fans turned on with ventilation or avoiding medications that can raise internal temperatures.
Details
Introductory Webinar: Farmed Animals and Natural Disasters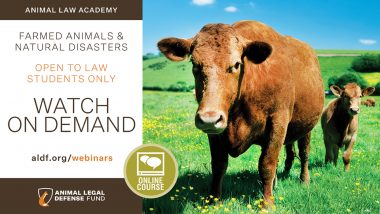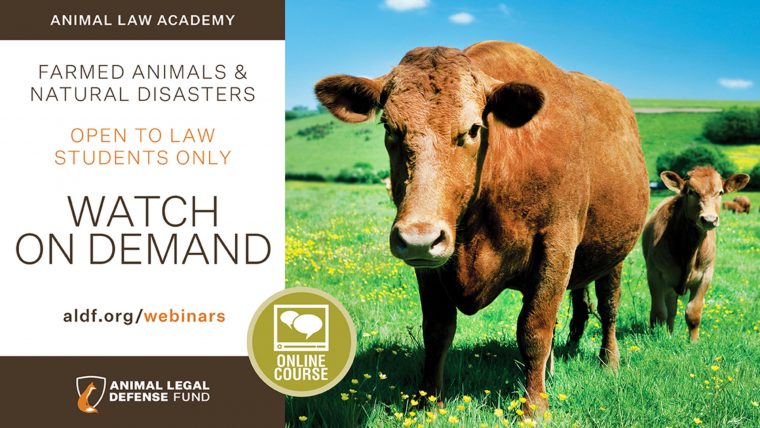 To kick off both Speak Out for Farmed Animals Month 2021 and the Student Scholars' Workshop, the Animal Legal Defense Fund hosted a webinar on October 6. This webinar walks law students through the animal-related issues at the center of natural and weather-related disasters and the limited laws that address the welfare of these animals. At the end of the webinar, students are offered the opportunity to participate in the inaugural Animal Law Student Scholars' Workshop.
Eligibility and Solicitation of Proposals
Interested full- or part-time 2L, 3L, 4L & LL.M. law students are invited to submit proposals. Proposals must:
Identify the name, law school, and graduation date of the student.
Contain the working title of the paper.
Briefly describe the paper's thesis and main points.
Be based on U.S. federal, state, or local law, or incorporate international or foreign law into U.S. law.
Be written in English.
Be less than 500 words in length (exclusive of name, law school, and graduation date).
Be submitted in .pdf format by November 8, 2021.
Workshop participants will be selected based on the strength of their proposals. Proposals will be reviewed based on:
Writing quality.
Clarity.
Originality.
Potential effectiveness of thesis to protect the lives of farmed animals in natural disasters.
Students selected to participate in the workshop will be notified by November 19, 2021.
January 21, 2022 Seminar: Introduction to Scholarly Writing and Animal Law Research:
Workshop participants will be invited to an online writing and research seminar led by Animal Law Program Director, Stacey Gordon Sterling, former law librarian and legal research and writing faculty.
Faculty and Student Cohorts
Each participant will be placed in a cohort based on the topic of their paper. Each cohort will be assigned a law school faculty member with expertise in both animal law and legal writing.
Cohorts will participate in peer review and discussion during the April 1 Scholars' Forum.
Drafts and Faculty/Peer Review
By March 7, 2022, participants will submit completed drafts of their papers to their cohort and faculty/recognized animal law scholar advisor. Faculty/recognized animal law scholar and peer review will commence.
Scholars' Forum: April 1, 2022
A one-day Scholars' Forum will be held remotely on April 1, 2022. The tentative agenda includes:
Welcome and Plenary Session I: The Role of Scholarship in Making Change for Animals.
Cohort Discussions.
Lunch Break and possible networking opportunities.
Plenary Session II: Short Paper Presentations.
Wrap up and next steps.
Possible additional networking opportunities.
Editing and Finalizing Papers
After the forum, students will edit their papers based on the feedback they received from their peers and faculty. Final papers will be submitted to the Animal Legal Defense Fund by May 2, 2022.
Final papers must:
Be between 8,000 and 10,000 words in length, including footnotes.
Contain a clearly stated thesis that articulates a problem and offers a solution.
Incorporates sound research and credible legal, academic, and scientific sources.
Builds on current law and legal precedent (or lack thereof).
Address barriers to implementation of ideas.
Be organized and adhere to traditional law review article structure.
Be written in English.
Contain minimal typographical errors.
Be footnoted and comply with either the current Bluebook or ALWD Manual citation format.
Publication and Presentation
Completed papers will be compiled into a collection similar to a special edition of a law review that will be edited and published by the Animal Legal Defense Fund to coincide with Speak Out for Farmed Animals Month in October 2022. Participants will be invited to present their papers at the 2022 Student Convention, which will also be held in October 2022. Students who elect to present their papers will have the opportunity to work with the Animal Legal Defense Funds' Project Management and Animal Law Program staffs to build professional presentation skills. The Animal Legal Defense Fund will have final approval of publication and presentation speakers.
Join the Animal Legal Defense Fund's email list to stay up to date on lawsuits, legislation, and regulations affecting animals.
Sign Up Now
Related
Cows were killed in Madison, Brazos, and Robertson Counties, Texas.

The U.S. Court of Appeals for the Fourth Circuit handed an important win to plaintiffs in a lawsuit challenging North Carolina's Ag-Gag law, ruling that undercover investigations and whistleblowing are considered newsgathering activities protected by the First Amendment.

Public interest coalition celebrates another win against unconstitutional statute barring undercover investigations at factory farms