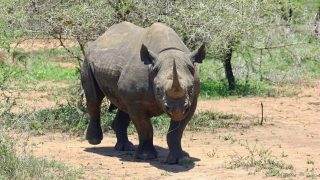 Animal Groups Call on Zoos to Oppose Swaziland's Disastrous Rhino Proposal
A recently leaked document shows that Swaziland is seeking to farm their rhinos and sell their horns.
Contact: media@aldf.org
Cotati, CA – In March, the Dallas Zoo, Omaha's Henry Doorly Zoo, and the Sedgwick County Zoo in Kansas started a controversy when they imported 17 wild elephants from the Kingdom of Swaziland in Africa, over the objections of conservationists, scientists and animal protection organizations worldwide.
The partnership of zoos argued that the elephants' removal was necessary to create space for more rhinos, and in exchange for the elephants they are paying Big Game Parks, a private nonprofit based in Swaziland, $450,000 dollars to purportedly protect the country's 73 rhinos. But a recently leaked document shows that Swaziland is seeking to farm the rhinos and sell their horns – a move that would make the zoos complicit in driving rhinos to extinction.
All trade in rhino horns has been illegal since 1977. However, Swaziland has submitted a last-minute proposal to be considered at the Convention on International Trade in Endangered Species (CITES) meeting in September to permit trade in rhino horns. The proposal would allow Big Game Parks, which manages Swaziland's rhinos and elephants, to sell its existing stock of rhino horns to "licensed retailers in the Far East," at a profit of nearly $10 million.
The country would also regularly "harvest" horn from living white rhinos. The move comes shortly after South Africa decided against presenting a similar proposal, and Kenya burned more than a ton of rhino horns alongside 105 tons of elephant ivory.
Animal protection organizations are calling on the zoos to oppose Swaziland's proposal. "From the beginning animal protection groups have said that the zoos' purported concern about saving rhinos was just a cover for buying wild elephants," says Animal Legal Defense Fund Executive Director Stephen Wells. "Unless these zoos vigorously oppose Swaziland's proposal to sell rhino horns, their conservation claims will forever ring hollow."
"Selling stockpiled and farmed rhino horn openly to consumers in Asia would accelerate the already intolerable poaching pressure on all other wild populations of African and Asian rhino species," says Keith Lindsay, conservationist and collaborating researcher with the Amboseli Trust for Elephants in Kenya. "It is a selfish and narrow-minded move by the managers of Big Game Parks in Swaziland, which controls the rhinos and is the zoos' partner in the elephant import."
"Just as every permitted ivory sale has increased elephant poaching, a trade in rhino horns would decimate the species," says Performing Animal Welfare Society (PAWS) President Ed Stewart. "It is time for all zoos to take a stand against Swaziland's disastrous rhino proposal, just as they oppose the trade in elephant ivory."
Opposing animal protection groups include the Animal Legal Defense Fund, the Performing Animal Welfare Society (PAWS) and In Defense of Animals.
Related
Animal Legal Defense Fund letter asks Puerto Rico governor to investigate illegal treatment of endangered species and other animals at Dr. Juan A. Rivero National Zoological Park

Complaint urges the Puerto Rican government to investigate and revoke any permits granted to the Dr. Juan A. Rivero National Zoological Park and immediately send the animals there to sanctuaries, due to the Endangered Species Act and cruelty violations.

Seventeen wild-caught African elephants scheduled to arrive in the U.S. today.