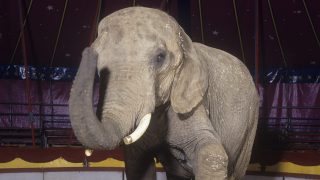 Animal Protection Coalition Demands USDA Inspection of Imported Elephants Upon Arrival
Seventeen Wild-caught African Elephants Scheduled to Arrive in the U.S. Today
Contact: media@aldf.org
Dallas, TX – Today 17 wild-caught African elephants are scheduled to arrive in Dallas, TX, after which elephants bound for the Dallas Zoo will be off-loaded and remaining elephants will be flown to their final destinations at the Henry Doorly Zoo in Omaha, NB and the Sedgwick County Zoo in Wichita, KS.
A coalition of animal protection organizations, including Animal Legal Defense Fund, PETA, Performing Animal Welfare Society (PAWS) and captive wildlife attorney Deborah Robinson, is demanding an inspection by the United States Department of Agriculture (USDA) of all 17 elephants upon arrival.
The letter addressed to Robert Gibbens, a veterinarian and the Western Regional Director of USDA-APHIS-Animal Care, reads:
"Given that these animals have been sedated and subjected to a journey that will ultimately be several days long in duration, it is critical that the USDA stands ready to inspect and monitor the arrival of these elephants to better ensure compliance with the federal Animal Welfare Act (AWA)."
"Prioritizing dollars over elephant welfare is business as usual for Dallas Zoo Management," says Carney Anne Nasser, Animal Legal Defense Fund's Senior Counsel for Wildlife and Regulatory Affairs and a former Assistant City Attorney for the City of Dallas. "Snatching elephants out of the wild and forcing them to live in tiny enclosures that deny them everything that is natural and important to them has nothing to do with legitimate conservation and everything to do with selling tickets."
Animal protection groups and conservationists worldwide vehemently opposed the sale and importation of the elephants in November 2015 when the permit application was before the United States Fish and Wildlife Services (USFWS).
The intended use of these 17 elephants is to further the captive breeding programs that have proven unsustainable in U.S. zoos. This violates the Convention on International Trade in Endangered Species of Wild Fauna and Flora (CITES), the treaty that regulates international trade in wildlife, which expressly defines captive breeding programs as "commercial activity" and prohibits the import of African elephants for such purposes.
More Information
The letter addressed to Robert Gibbens, Western Regional Director of USDA-APHIS-Animal Care is available upon request
Related
Proposed rule would maintain an unnecessarily complicated and confusing process for children to get access to plant-based milk

Recommendations aim to decrease risk of zoonotic disease spread, animal escapes and attacks, and psychological and physical harm to the animals

Animal Legal Defense Fund petition for rulemaking spurs reporting improvements: Forms will be revised to ensure AWA licensees maintain complete records of all animal deaths.