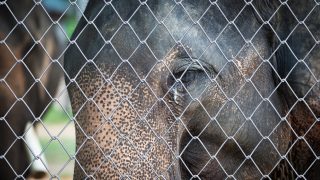 Animal Advocacy Group Calls on Puerto Rican Officials to Protect Animals Languishing at Troubled State Zoo
Complaint urges Puerto Rican government to investigate Dr. Juan A. Rivero National Zoological Park
Contact: media@aldf.org
San Juan, Puerto Rico – The Animal Legal Defense Fund, the nation's preeminent legal advocacy organization for animals, submitted complaints to the Puerto Rico Department of Agriculture and the Department of Natural and Environmental Resources urging the agencies to revoke any permits granted to the Dr. Juan A. Rivero National Zoological Park and immediately send the animals there to sanctuaries, due to Endangered Species Act and animal cruelty violations at the Zoo. More than 100 animals, including an African elephant named Mundi and a chimpanzee named Magnum, live in abysmal conditions at Puerto Rico's only official zoo.
U.S. Department of Agriculture inspection reports reveal chronic violations of the Animal Welfare Act. Numerous animals have died in recent years due to poor sanitation, inadequate veterinary care, filthy enclosures, and untrained staff. In 2017, a tiger died after the zoo failed to properly treat his symptoms. A puma named Kali died in August 2017 after suffering from lameness for months. Several animals, including Mundi and a rhinoceros named Felipe, suffer from lameness likely due to the inappropriate flooring in their enclosures. Eneida, a red kangaroo, was repeatedly ill due to suspected poisoning from the wood her shelter was built with – she is presently without a shelter. The Zoo also chronically fails to provide adequate care to members of threatened and endangered species.
"Overwhelming evidence confirms that the animals at this zoo are suffering, and the staff is wholly unequipped to provide adequate care," said Animal Legal Defense Fund Executive Director Stephen Wells. "We urge the Puerto Rican government to swiftly take appropriate action to protect these individuals before any more animals die."
The complaint alleges the zoo is in violation of the Endangered Species Act as well as Puerto Rico's animal cruelty laws, which mandate animals be provided shelter, safe food, and adequate veterinary care. Copies of the complaint were sent to Governor Ricardo Roselló and First Lady Beatriz Roselló.
Multiple sanctuaries have offered to rehome some of the animals. A committee appointed by the Puerto Rican government echoed its support for moving the zoo's animals to sanctuaries. But no animal has been transferred to date.
Copies of the complaint are available upon request.
Related
The lawsuit alleges federally endangered and threatened animals such as the tigers, lions, and ring-tailed lemurs are receiving inadequate care at Tiger Creek

In a letter to the USDA, the Animal Legal Defense Fund and others explain the zoo has repeatedly violated standards of the Animal Welfare Act

The Animal Legal Defense Fund filed a lawsuit on behalf of Madeline Krasno, a former employee of one of the University of Wisconsin-Madison's controversial primate research labs, who has been prevented from posting truthful comments on the university's otherwise public Instagram and Facebook posts.