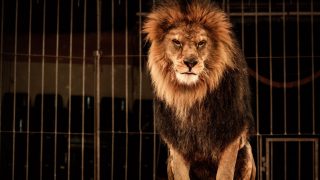 Teaming Up with Las Vegas Entertainer Stephen Sorrentino to Urge Illusionist Dirk Arthur to Make Big Cats Disappear from His Magic Show Once and For All!
Dirk Arthur is no stranger to controversy. He is one of only three magic acts left in the country that still uses big cats in performances and has been cited repeatedly by the U.S. Department of Agriculture (USDA) for violating bare minimum standards of care for the animals off of whom he profits. He has flouted the federal Animal Welfare Act (AWA) by cruelly and painfully declawing big cats – a partial amputation procedure which is also condemned by the American Veterinary Medical Association – housing tigers and other big cats in cages that deny them adequate space to stretch their limbs, forcing big cats to endure extreme heat with no protection from the sun, failing to adhere to prescribed veterinary care requirements, disregarding safe handling requirements for dangerous animals in public exhibitions, and subjecting cats to unsafe and hazardous enclosures. Arthur also has a history of acquiring big cats from disreputable roadside zoos with their own egregious histories of AWA violations.
After the USDA cited Arthur for numerous AWA violations and slapped him with an "Official Warning," Caesar's Entertainment declined to renew Arthur's contract to perform at Harrah's casinos in Nevada. Arthur went on to do a brief stint at the Riviera Casino, which was cut short when the venue closed on May 4, 2015, in anticipation of its impending demolition. Arthur is now slated to open his act, Wild Magic, at the Westgate Casino starting on August 24, 2015.
Just yesterday, ALDF and acclaimed actor, comedian, producer, and friend to animals Stephen Sorrentino have teamed up to offer a win-win solution to Dirk Arthur's animal welfare woes. Sorrentino, also based in Las Vegas, has generously offered to bring a cruelty-free, contemporary vision to Arthur's show by producing, staging, choreographing, casting, and costuming animal-free segments of Arthur's act, and helping publicize the resultant electrifying animal-free version. ALDF stands ready to help rehome the cats to reputable sanctuaries where they will be able to live out the rest of their lives in naturalistic habitats, rather than cramped transport cages and casino stages. ALDF and Sorrentino are urging Arthur to follow the compassionate lead of fellow magician Rick Thomas, who has continued to dazzle audiences with his illusion act after retiring all of his tigers from performing and rehoming them to a reputable sanctuary. As concern for exploitation of endangered species grows and use of exotic animals for entertainment is frowned upon by an enlightened public, we urge Arthur to do the right thing.
Related
Graphic images of wound are posted on Tik-Tok by an employee of Gator Park — a facility owned and operated by Jason Clay.

The lawsuit alleges federally endangered and threatened animals such as the tigers, lions, and ring-tailed lemurs are receiving inadequate care at Tiger Creek

Thanks to Animal Legal Defense Fund supporters, a tiger named Nila, two lions — Buddy and Missa, two ring-tailed lemurs, a Mikado pheasant, a military macaw, and a blue-and-gold macaw will at last have access to species-appropriate habitats and enrichment.